What could possibly be wrong with gaining knowledge and information?
---
This article is a stub and is missing information.
You can help DigimonWiki by expanding it.
After not being allowed to participate in a Digimon tournament, The D-1 Grand Prix, due to his Digimon not being recognized, Taichi Yagami receives a special message from MagnaAngemon. Arriving in the Digital World Taichi meets his partner, Zeromaru, and Gabo, a Gabumon who is a messenger of sorts for MagnaAngemon. Defeating a Tortomon using a strategy made up by Taichi, the three make their way towards Lord MagnaAngemon's castle.
Featured Characters
(Number indicates order of appearence.) (Numbers indicate order of appearance. Bolded characters are fought by the protagonist(s), and italicized characters feature non-explicitly, e.g. voice, silhouette, image.)
Quotes
There are currently no quotes listed for this episode.
Other Notes
Digimon references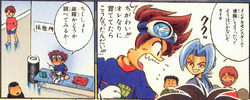 Ad blocker interference detected!
Wikia is a free-to-use site that makes money from advertising. We have a modified experience for viewers using ad blockers

Wikia is not accessible if you've made further modifications. Remove the custom ad blocker rule(s) and the page will load as expected.