List of Digimon
Candlemon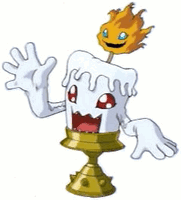 In order to to attack Tagiru Akashi, Gumdramon, and Ewan Amano, Airu digixroses Opossummon with her Candlemon to form XrosUpOpossummon. Warning, Cuteness! The Cute Hunter Airu's Traps!
Opossumon
Parasimon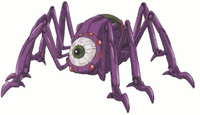 Airu used this Digimon to make Locomon go on a rampage. Airu describes it as "Cute in a creepy way". Apparently it gets its energy from the screams of children. When overpowered, it goes rogue, not even listening to the person it belongs to. It caused a lot of trouble for everyone until it is thrown off the train by Gumdramon.
Attacks
Electric Bind: Binds the opponent with its elongated tentacles and unleashes an intense electric shock.-->
Notes and References
Ad blocker interference detected!
Wikia is a free-to-use site that makes money from advertising. We have a modified experience for viewers using ad blockers

Wikia is not accessible if you've made further modifications. Remove the custom ad blocker rule(s) and the page will load as expected.