Ballistamon (Fusion)
Talk

2
5,890pages on
this wiki
Ballistamon is one of the main characters in the Digimon anime, Digimon Fusion. He is a member of Taiki's Xros Heart army.
Appearance
Edit
Ballistamon is a noble and taciturn warrior who bears a resemblance to a robotic Hercules beetle. Ballistamon has been seen to have a compartment in his chest that can be used to carry cargo, such as the Wristers given to the members of the Xros Heart army. Ballistamon was one of the first members of the Xros Heart to DigiXros alongside Shoutmon to create Shoutmon X2. Ballistamon usually DigiXroses with Shoutmon and Dorulumon to form the chest and arms of Shoutmon X3 and his more stronger forms.
Description
Edit
Taiki, Go to Another World! Shoutmon, Roar! Rival Kiriha, Appear! Island Zone, An Upheaval! DigiMemory, Shine! X4, The Crisis Breakthrough! Volcano Digimon, A Great Eruption! Fierce General Tactimon, Close In! Dorulumon, Run Like the Wind! Taiki, Become a Knight! Xros Heart, Burn! Sand Zone, A Great Adventure in the Ruins! Taiki, The Goddess's Warrior! Warrior Beelzebumon, Flutter! Heaven Zone, The Snare of Paradise! Dark Knight Digimon, An Entrance! A Miraculous DigiXros! Shoutmon X5 Flies! Stingmon, The Hero of the Digimon Jungle Legendary Deckerdramon, Stir! Dust Zone, The Great Scrap City of GrandLocomon! Showdown! DarkKnightmon VS Xros Heart! Wisemon, The Secret of the Digital World!
Attacks
Horn Breaker: Heroically uses his horn to fling the opponent.
Heavy Speaker: Emits a low tone from the speaker in his belly, shattering the opponent. This technique conceals the power to smash rocks and shake mountains, and that power level rises when he gets hungry.
Arm Bunker: Charges energy into his arm.
Other forms
Edit
DarkVolumon
Edit
DarkVolumon is the original form of Ballistamon, a stag-beetle type Digimon, who was a member of Olegmon's crew, before he lost his memory after fighting Shoutmon, when he was sent by mistake through a dimensional rift to the Village of Smiles in the Green Zone.
AtlurBallistamon
Edit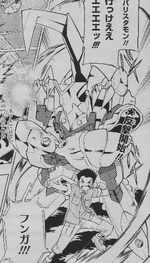 Attacks
Plasma Crack: Fires a stream or sphere of electricity from its main horn, with power rivalling that of "Heaven's Thunder".[1]
Rocket Bunker: Unleashes a punch with its extensible arm.
XrosUpBallistamon
Edit
A Great Legendary Hero Gathering! The Digimon All-star Showdown!!
Attacks
Heavy the Shot[2]: Fires an energy shot surrounded by sonic waves from the gun on his belly.
Other DigiXros forms
Edit
Human form
Edit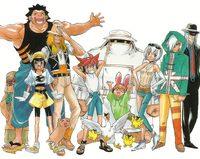 Notes and References
Edit