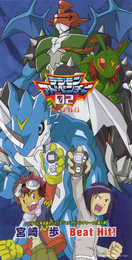 Beat Hit!/FOREVER FRIENDS is a single from Digimon Adventure 02, containing full and karaoke tracks of "Beat Hit!" and "FOREVER FRIENDS".
"Beat Hit!" is the theme song used during Jogress evolutions in Digimon Adventure 02, while "FOREVER FRIENDS" is an insert song used in Digimon Adventure 02: Digimon Hurricane Landing!!/Transcendent Evolution!! The Golden Digimentals.
CD Data
| | |
| --- | --- |
| Catalog Number | NEDA-10026 |
| Format | CDS |
| Release Date | November 2, 2000 |
| Price | ¥ 1,050 |
Track listing
Ad blocker interference detected!
Wikia is a free-to-use site that makes money from advertising. We have a modified experience for viewers using ad blockers

Wikia is not accessible if you've made further modifications. Remove the custom ad blocker rule(s) and the page will load as expected.