List of Digimon
Greymon
MailBirdramon
Volcdramon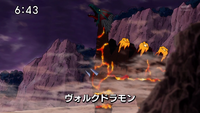 Volcdramon was the prize for the Hunter who was able to capture it during a Hunting Contest being held by the Old Clock Shop Man. However, it proved to be too much for any of the Hunters until Christopher arrived and captured it after defeating it. A Great Hunter Gathering! The Digimon Contest of the Southern Island!

Notes and References
Ad blocker interference detected!
Wikia is a free-to-use site that makes money from advertising. We have a modified experience for viewers using ad blockers

Wikia is not accessible if you've made further modifications. Remove the custom ad blocker rule(s) and the page will load as expected.