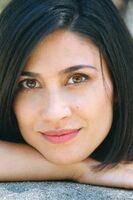 Colleen O'Shaughnessey, also spelled Colleen O'Shaughnessy, is an American voice actress.
Colleen auditioned for several roles in Digimon Adventure, but ended up getting Sora, which was her first dubbing role. Colleen likes Sora's spunkyness and humor, and used her sarcasm when playing the girl. She was also surprised that Sora and Matt wound up together in Digimon Adventure 02.[1]
List of roles
External links
Notes and references
Ad blocker interference detected!
Wikia is a free-to-use site that makes money from advertising. We have a modified experience for viewers using ad blockers

Wikia is not accessible if you've made further modifications. Remove the custom ad blocker rule(s) and the page will load as expected.