Ad blocker interference detected!
Wikia is a free-to-use site that makes money from advertising. We have a modified experience for viewers using ad blockers

Wikia is not accessible if you've made further modifications. Remove the custom ad blocker rule(s) and the page will load as expected.

What could possibly be wrong with gaining knowledge and information?
---
This article is a stub and is missing information.
You can help DigimonWiki by expanding it.
Crabmon was seen as the partner of an Australian DigiDestined named Derek. He helped Armadillomon and Ikkakumon drive off a Gesomon, Shellmon and Ebidramon that was seen chasing him and Derek. Later on, he was seen during the final battle against MaloMyotismon.

Other forms
Coelamon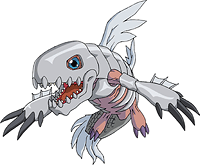 He digivolved to Coelamon to help Zudomon and Submarimon fight a Scorpiomon, who was guarding a Control Spire.
Attacks
Fossil Bite: Falls upon the opponent with his gigantic talons.
Notes and references