Ad blocker interference detected!
Wikia is a free-to-use site that makes money from advertising. We have a modified experience for viewers using ad blockers

Wikia is not accessible if you've made further modifications. Remove the custom ad blocker rule(s) and the page will load as expected.
Cute Beat Club is soundtrack from Digimon Adventure. This is actually more of a multimedia disc. Asides from the music, it also has images and information on it.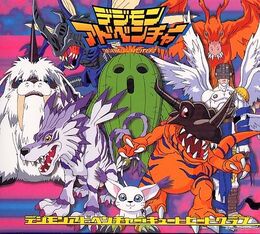 CD Data
| | |
| --- | --- |
| Catalog Number | NECT-00001 |
| Format | CDA |
| Release Date | December 10, 1999 |
| Price | ¥ 3,000 |
Track list
| # | Title | Artist | Length |
| --- | --- | --- | --- |
| 1 | Butter-Fly | Kouji Wada | 4:16 |
| 2 | brave heart | Miyazaki Ayumi | 4:12 |
| 3 | I wish | Ai Maeda | 4:04 |
| 4 | Seven | Kouji Wada | 4:16 |
| 5 | Itsu demo Aeru kara | Ai Maeda | 4:33 |
| 6 | Shinka de Guts! | Digimon Shinkers | 5:13 |
| 7 | Adventurer~Taichi no Theme~ | N/A | 2:39 |
| 8 | Straight From The Heart~Sora no Theme~ | N/A | 1:48 |
| 9 | Run With The Wind~Yamato no Theme~ | N/A | 1:39 |
| 10 | Digital Scratch!~Koushirou no Theme~ | N/A | 1:32 |
| 11 | Sweet Innocent~Mimi no Theme~ | N/A | 1:22 |
| 12 | Blue Faith~Jou no Theme~ | N/A | 1:12 |
| 13 | Little Brightness~Takeru no Theme~ | N/A | 1:27 |
| 14 | Shouri~Zen no Theme~ | N/A | 1:28 |