What could possibly be wrong with gaining knowledge and information?
---
This article is a stub and is missing information.
You can help DigimonWiki by expanding it.
Deckerdramon is a legendary alligator-like Digimon who protects the Forest Zone's Code Crown, and is said to be undefeated in battle.
Appearance
Deckerdramon is shaped like a blue alligator, but is covered in brown metallic armor, which is equipped with heat exhaust pipes and missile batteries. While he guards the Forest Zone, he is covered in a golden aura that makes him resemble a golden idol. However, when he joins Blue Flare, he reveals his true blue-and-brown color scheme.
Description
Deckerdramon is a legendary Digimon who protects the Forest Zone's Code Crown, and is said to be undefeated in battle. Due to this, AxeKnightmon sought him out to join Midnight, but Deckerdramon ends up joining Blue Flare, as well as giving them the Code Crown, when he sees true love in Christopher's heart.
Welcome to the Jungle Zone! Rumble in the Jungle Zone! Disaster in the Dust Zone! Ballistamon's Bad-News: Blast From the Past! Deep Trouble in Canyon Land! Great Fusion! The Power of Friendship Final Fusion - The Fight For Earth!
Attacks
Crocodile Cannons[1] (Deckerdra-Launcher): Shoots down any kind of Flying Digimon with a variety of anti-aircraft missiles.
Cyclone Crusher (Heavy Tailhook): Pulverizes the opponent with a mighty blow of his tail.
Other Forms
Deckerdramon Float Mode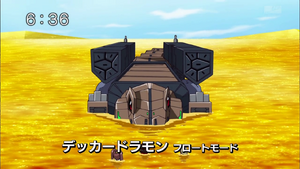 Deckerdramon Float Mode is a barge-like form of Deckerdramon that allows it to sail across the sea. He uses it to allow the others to ride on him when they arrive in the Gold Land.

DigiFuses
Notes and references
Ad blocker interference detected!
Wikia is a free-to-use site that makes money from advertising. We have a modified experience for viewers using ad blockers

Wikia is not accessible if you've made further modifications. Remove the custom ad blocker rule(s) and the page will load as expected.