What could possibly be wrong with gaining knowledge and information?
---
This article is a stub and is missing information.
You can help DigimonWiki by expanding it.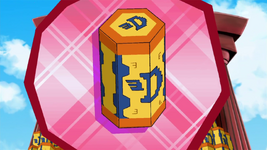 DigiBytes (デジノワー, DejiNowā?, lit. "DigiNoir") is a food of the Digital World in Digimon Fusion. It grows in trees, and has ring-shaped grains inside a hexagonal package. Island Zone in Chaos!
Fiction
Digimon Fusion
Island Zone in Chaos! Thanks for the DigiCards!
Notes and references