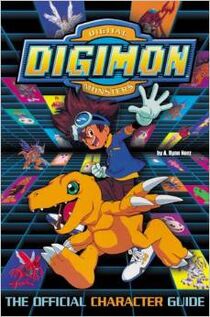 The Digimon: The Official Character Guide is a Digimon book which was published by Puffin in the year 2000. Written by A.Ryan Nerz, it is a character guide for Digimon Adventure and its character.
The 144-page guide provides details on the eight DigiDestined and all their partners forms as well as a description of every Digimon that appears in Digimon Adventure, arranged in the order they first appeared in the show.
The guide gives the reader details about each Digimon including the pronunciation of their name, their level, their grouping, their attacks, special abilities and a description of the character.
Book blurb
Attention Digimon Fans! Think you know everything there is to know about the awesome Digimon: Digital monsters TV show, trading cards and excellent card game? Think again! You hold in your hands the only official guide to all the Digimon characters - from Tai and Patamon to champion Digimon Ogremon - and every other member of the Digital word too!
This book contains:
All 115 Digimon and the eight human characters from the show - their vital statics, descriptions and a picture of each one.
Each Digimon's masterful fighting technique.
The digivolutions of the eight main Digimon.
Answers all your questions.
Fascinating information about the Digital world, Digivolutions, Evil Digimon, and the black gears.
In short, everything you need to be a Digital master of the Digimon universe.
Gallery
Ad blocker interference detected!
Wikia is a free-to-use site that makes money from advertising. We have a modified experience for viewers using ad blockers

Wikia is not accessible if you've made further modifications. Remove the custom ad blocker rule(s) and the page will load as expected.