Ad blocker interference detected!
Wikia is a free-to-use site that makes money from advertising. We have a modified experience for viewers using ad blockers

Wikia is not accessible if you've made further modifications. Remove the custom ad blocker rule(s) and the page will load as expected.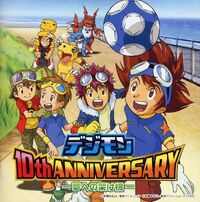 Digimon 10th Anniversary is a 2007 compilation CD published by Toei Animation to celebrate the 10th anniversary of the Digimon franchise. It features songs sung by the voice actors of all five "gogglehead" characters from the series (in character), as well as songs from Kōji Wada, Ayumi Hamasaki and AiM.
It was released in Japan on August 1, 2007.
Tracks
Eikyuu ni Tsuzuke! (Continue Toward Eternity!)- Yagami Taichi (Fujita Yoshiko)
Ashita (Tomorrow)- Motomiya Daisuke (Kiuchi Reiko)
Kiseki no Takaramono (Treasure of Miracles)- Matsuda Takato (Tsumura Makoto)
Secret Rendezvous- Kanbara Takuya (Takeuchi Junko)
Yume no Kakera (Fragments of a Dream)- Daimon Masaru (Hoshi Souichirou)
Try Again!- IKUO
Omoide no Mukou (Across the Memories)- Miyazaki Ayumi
Chiisana Kakera (Small Fragments)- AiM
Hokori ~Kagirinaki Chikara no Shoumei~ (Pride ~The Proof of Endless Power~)- Wada Kouji