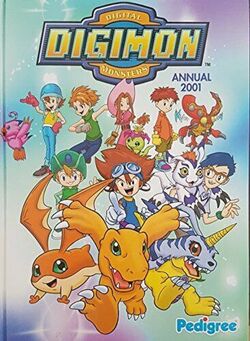 The 'Digimon Annual 2001 is a 2001 children's annual featuring DigiDestined, Digimon and other characters from Digimon Adventure. The annual was published by Pedigree in 2001 and sold, in the UK, for £6.99.
The annual has been out of print for a number of years. It was followed up the next year by "Digimon Annual 2002" which featured DigiDestined from the first and second Digimon Adventure.
Content
Meet the characters - A look at the DigiDestined and their Digimon.
In the Dark - Match the Digimon to its silhouette.
Heads up! - Match the Digimon's head to its body.
A comic of "And so it begins..."
Digi-copy - Redraw a picture of Agumon and Tentomon.
Fear the gear - Find 10 Black Gears in a picture.
Know your Digimon - Digimon quiz.
A comic version of "The Birth of Greymon"
The great escape - Guide Tai and Agumon through a maze.
Copy cats - Spot the difference game.
Digi-colour - Colour in a picture of Matt and Tai and their Digimon.
Digiscrambled - Unscramble words to find the names of Digimon.
A comic version of "Garurumon"
Design a Digimon - Design your own In-training, Rookie and Champion Digimon.
Digi-web - An advert for the original Digimon fox kids website.
Comic of "Biyomon Gets Firepower".
Gallery
Ad blocker interference detected!
Wikia is a free-to-use site that makes money from advertising. We have a modified experience for viewers using ad blockers

Wikia is not accessible if you've made further modifications. Remove the custom ad blocker rule(s) and the page will load as expected.