A series of CD-Roms have been released over the years along with other pieces of Digimon Merchandise which contain extra Digimon related content based aroun the anime Digimon Adventure. These disks contain additional Digimon content for Digimon fans to enjoy, including character profiles, storyline recaps, free wallpaper and screen savers, Digimon games, pictures of characters to be printed out and coloured and much more. Like a lot of Digimon merchandise, they are not being produced any more but can be bought second hand from the internet.
Digimon the movie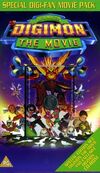 The VHS release of Digimon: the movie was packaged with a CD-Rom extra disk which slotted into the front of the VHS box. On the disk was a copy of DigiCannon, Quest to Save the Net, Digimon wallpaper, a Digimon screen saver, Digimon print out and colour pictures, character profiles of the Digimon Adventure 02 DigiDestined and their Digimon partners. The disk also had a full copy of the Len music video for their cover of " Kids in America" which was on the films soundtrack.
Digimon Powerdeck CD-Rom
This CD-Rom was packaged as an extra along side the Digimon PowerDeck booster pack from the Digimon trading card game. It is a small rectangular shaped disk which contains extra content relating to the Digimon Adventure era of the franchise.
On the disk start up page the content is divided into four sections, which are the Digimon Video, Digimon story, links and character profiles for each of the seven human main characters. The Digimon video shows all your favourite Digimon Digivolving from their in-training forms to their Rookie levels.
The Digimon story is an introduction to the Digidestined, their Digimon partners, and how they all found each other and the adventure in the Digiworld. The Links are simply a list of links to offical Digimon websites including Bandai, Fox kids and upper deck. The Character Profiles are profiles on each character which includes an introduction, what his or her best qualities are, who his or her Digimon partner are, and what s/he is known for.
Ad blocker interference detected!
Wikia is a free-to-use site that makes money from advertising. We have a modified experience for viewers using ad blockers

Wikia is not accessible if you've made further modifications. Remove the custom ad blocker rule(s) and the page will load as expected.