Digimon Next
Talk

0
5,888pages on
this wiki
Digimon Next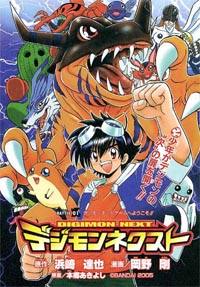 デジモン ネクスト


(Dejimon Nekusuto)

Digimon Next is the second Digimon manga to be printed in the pages of V-Jump magazine, starting on December 17, 2005. The main character is Tsurugi Tatsuno, a fifth grader well known for his prowess in raising strong Digimon in his Digimon Mini. He is partnered with a Greymon.
It seems to share a few key elements with Digimon Data Squad, such as the use of D.N.A. and the Data Link Digivice
Tsurugi Tatsuno is a boy who raises Digimon in his Digimon Mini and is introduced to Net Battle, a virtual world where players' Digimon can fight each other. When a Kuwagamon appears in the Real World, his Greymon comes to life and protects him. Tsurugi is summoned to the Digital Worldby Piximon to save it from the Demon Lord Barbamon. Since his Digimon has a hexagon shape on him, it's an Illegal (変異種, Hen'ishuu?, lit. "Illegal Species") type, meaning that Digimon bearing such symbols can help save the Digital World. Gaining friends and enemies along the way, Tsurugi and his partner attempt to save the Digital World before Barbamon and his Commandments can obtain all the DigiMemories and take over both worlds.
Characters
Edit
Main characters
Edit
Barbamon is a member of the Seven Great Demon Lords, the source of all the chaos in the Digital World, as well as the holder of the Dark DigiMemory. Seeking to gather all of the DigiMemories to create NEO, he has hijacked the Host Computer Yggdrasill in the System World and has his Commandments wreak havoc all through the world.
Commandments
Edit
The Commandments are Barbamon's elite forces to terrorize the world. They consist of land and air troops lead by the three Commanders, Chaosdramon, Murmukusmon and Zanbamon.
Piximon is the general Sage in the Digital World. He holds the Holy DigiMemory and is the one who brings Tsurugi into the Digital World.
Andromon is the Sage who resides in Light City, where a resistance group against Barbamon resides. Andromon holds the Machine DigiMemory.
Yggdrasill
Edit
Yggdrasill is the resident of the System World and the God of the Digital World.
NEO's completion is Barbamon's goal, requiring all eight DigiMemories to complete. He is an existence that surpasses Digimon and even Yggdrasill.
DigiMemories
Edit
The DigiMemories are eight pendants that stop Barbamon from taking over the Digital World and his goal is to gather all eight to create NEO. The eight DigiMemories are:
Notes and References
Edit
Digimon
General:
Digimon (creature) | Virtual pet | Card game
Elements:
Digivice | Digivolution | DigiDestined | Tamers | Generals | Hunters | Digital World
Anime:
Adventure (Series 1) | Adventure 02 (Series 2) | Tamers (Series 3) | Frontier (Series 4) | Data Squad (Savers) (Series 5) | Fusion (Xros Wars) (Series 6) | Digital Monster X-Evolution (Movie) | Digimon: The Movie (Dub Movie)
Manga:
C'mon Digimon | V-Tamer 01 | Chronicle | D-Cyber | Next | Xros Wars | Re:Digitize | Re:Digitize: Encode
Video Games:
Digital Monster Ver. S | Digimon World (& 2, 3, 4, Digital Card Battle (JP), Digital Card Battle (Digital Card Arena), Re:Digitize / Decode) | Digimon Rumble Arena (& 2) | Digimon World Data Squad | Anode/Cathode Tamer (& Tag Tamers, D-1 Tamers, Brave Tamer) | Digimon Medley | D-Project | Digimon Battle Spirit (& 1.5, 2) | Digimon Racing | Digimon World DS (& Dawn and Dusk, Lost Evolution, Super Xros Wars Red and Blue) | Digimon World Championship | Digimon Collectors | Digimon Crusader | Digimon Adventure | Digimon Battle | Digimon Masters
Lists of Digimon:
List of Digimon (all Digimon) | Fresh | In-Training | Rookie | Champion | Ultimate | Mega | Super Ultimate | Armor | Hybrid | No Level | Non-Japanese Origin | Partner | Groups
Community:
Fansubs | Fansites | Fan fiction | Relationships