Digimon Story: Super Xros Wars Blue and Red
Talk

7
Share
Ad blocker interference detected!
Wikia is a free-to-use site that makes money from advertising. We have a modified experience for viewers using ad blockers

Wikia is not accessible if you've made further modifications. Remove the custom ad blocker rule(s) and the page will load as expected.
Digimon Story: Super Xros Wars (デジモンストーリー 超クロスウォーズ, Dejimon Sutōrī Chou Kurosu Wōzu?) is a Digimon video game for the Nintendo DS, released with a 2011 release for Japan. It is released in two versions, as Digimon Story: Super Xros Wars Blue and Digimon Story: Super Xros Wars Red.
Super Xros Wars uses a system similar to the previous Digimon Story games, but includes many of the Digimon introduced in the Digimon Fusion anime. The main protagonist is actually Mikey Kudo, who is also the protagonist of the anime.
Obtainable Digimon
There are 393 obtainable Digimon in the game.
In Training

Rookie

Champion

Ultimate

Mega

No Level
Preview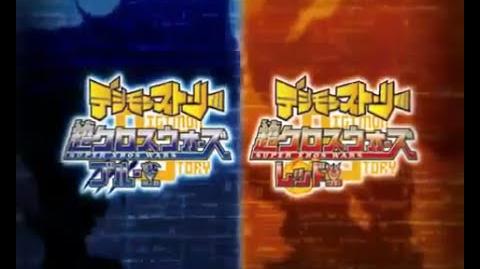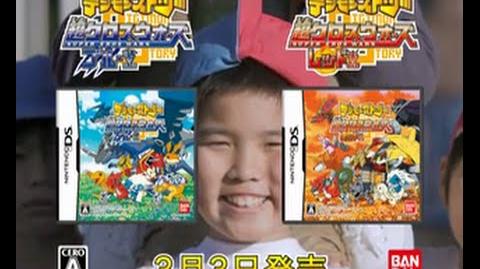 External links
Notes and references
Digimon
General:
Digimon (creature) | Virtual pet | Card game
Elements:
Digivice | Digivolution | DigiDestined | Tamers | Generals | Hunters | Appmon | Appli Drivers | Digital World
Anime:
Adventure (Series 1) | Adventure 02 (Series 2) | Tamers (Series 3) | Frontier (Series 4) | Data Squad (Savers) (Series 5) | Fusion (Xros Wars) (Series 6) | Adventure tri. (Series 7) | Digimon Universe: Appli Monsters (Series 8) | Digital Monster X-Evolution (Movie) | Digimon: The Movie (Dub Movie)
Manga:
C'mon Digimon | V-Tamer 01 | Chronicle | D-Cyber | Next | Xros Wars | Re:Digitize | Re:Digitize: Encode | Cyber Sleuth | Appli Monsters | Appmon Academy!!
Video Games:
Digital Monster Ver.S: Digimon Tamers (& Ver. WonderSwan) | Digimon World (World, 2, 3, 4, Digital Card Battle (JP), Digital Card Battle (Digital Card Arena), Re:Digitize / Decode, next 0rder) | Digimon Story (World DS, Dawn and Dusk, Lost Evolution, Super Xros Wars, Cyber Sleuth) | Battle Spirit (Battle Spirit, 1.5, 2, Server) | Rumble Arena (Rumble Arena, 2, All-Star) | Anode and Cathode Tamer (& Tag Tamers, D-1 Tamers, Brave Tamer) | Digimon Medley | Digimon World Data Squad | Digimon Adventure | Digimon Universe: Appli Monsters (& Cyber Arena) | Digimon Racing | D-Project | Digimon World Championship | Digimon Collectors | Digimon Heroes! | Digimon Linkz | Digimon Soul Chaser | Digimon Battle | Digimon Masters | Digimon Jintrix | Digimon Fortune
Lists of Digimon:
List of Digimon (

all Digimon

) |

Fresh

|

In-Training

|

Rookie

|

Champion

|

Ultimate

|

Mega

|

Ultra

|

Armor

|

Hybrid

|

No Level

|

Non-Japanese Origin

| Partner |

Groups

Lists of Appmon:
List of Appmon (

all Appmon

) |

Standard

|

Super

|

Ultimate

|

God

Community:

Fansubs

|

Fansites

|

Fan fiction

|

Relationships