What could possibly be wrong with gaining knowledge and information?
---
This article is a stub and is missing information.
You can help DigimonWiki by expanding it.
Digimon World Re:Digitize: Decode (デジモンワールド リ:デジタイズ デコード, Dejimon Wārudo Ri:Dejitaizu Dekōdo?) is a Digimon RPG game for the Nintendo 3DS. It is an upgraded version of Digimon World Re:Digitize.
Plot summary
The game's story is divided in three chapters:
Sub-lifeform Vitium
The Sub-lifeform Vitium chapter (亜生命体ヴィティウム編, Aseimeitai Vitiumu-hen?) is based on the plot of Digimon World Re:Digitize.
Lamentful X-Antibody
The Lamentful X-Antibody chapter (慟哭のX抗体編, Dōkoku no X-Kōtai-hen?) is the second chapter.
The Scheming Demon Lords
The The Scheming Demon Lords chapter (策謀の魔王篇, Sakubō no Maō-hen?) is the third chapter.
Characters
Main characters
Digital World
Credits
Cast
Reception
Preview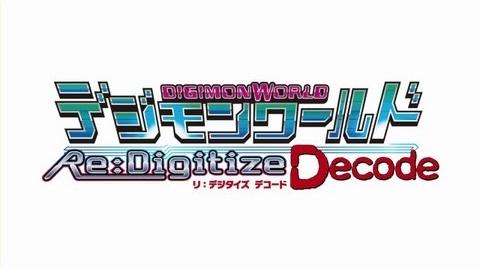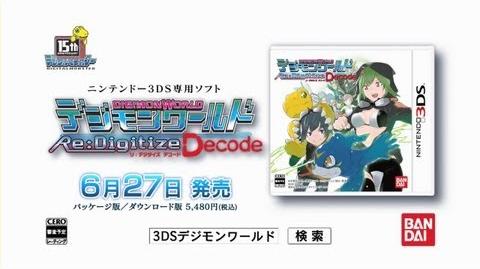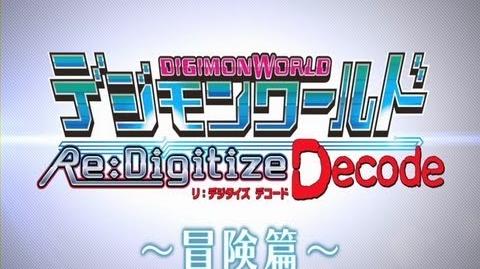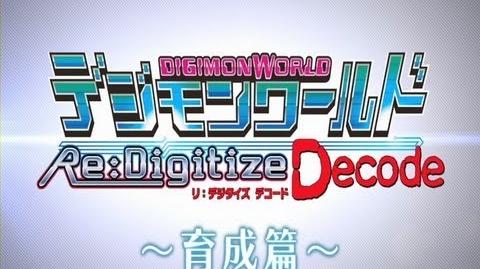 Operation Decode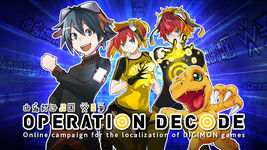 Shortly before the release of Digimon World Re:Digitize: Decode in Japan, fans started a campaign for the game's world-wide localization named Operation Decode in the molds of Operation Rainfall. The campaign started on Twitter using the hashtag "#OperationDecode", and in July 12, 2013, Francesco Haseo-san started an online petition on Change.org.[1] Haseo then launched the campaign's FaceBook page two days later, after the petition reached 250 signatures.[2]
On August 2, the campaign become part of Operation Rainfall's Campaign Hub.[3] Haseo launched the campaign's Twitter page on August 4, 2013[4] and its Tumblr page on August 15, 2013.[2] On September 16, the campaign's organizer asked European fans to reach to Bandai Namco's official communities.[5] The campaign was later acknowledged by Bandai Namco.[6] On June 30, 2014, Operation Decode's online petition became valid for the localization of all Digimon games.[2]

External links
Notes and references
Digimon
General:
Digimon (creature) | Virtual pet | Card game
Elements:
Digivice | Digivolution | DigiDestined | Tamers | Generals | Hunters | Appmon | Applidrivers | Digital World
Anime:
Adventure (Series 1) | Adventure 02 (Series 2) | Tamers (Series 3) | Frontier (Series 4) | Data Squad (Savers) (Series 5) | Fusion (Xros Wars) (Series 6) | Adventure tri. (Series 7) | Digimon Universe: Appli Monsters (Series 8) | Digital Monster X-Evolution (Movie) | Digimon: The Movie (Dub Movie)
Manga:
C'mon Digimon | V-Tamer 01 | Battle!! Digimon | Chronicle | D-Cyber | Next | Xros Wars | Re:Digitize | Re:Digitize: Encode | Cyber Sleuth | Appli Monsters | Appmon Academy!!
Video Games:
Digital Monster Ver.S: Digimon Tamers (& Ver. WonderSwan) | Digimon World (World, 2, 3, 4, Digital Card Battle (JP), Digital Card Battle (Digital Card Arena), Re:Digitize / Decode, Next 0rder) | Digimon Story (World DS, Dawn and Dusk, Lost Evolution, Super Xros Wars, Cyber Sleuth, Hacker's Memory) | Battle Spirit (Battle Spirit, 1.5, 2, Server) | Rumble Arena (Rumble Arena, 2, All-Star) | Anode and Cathode Tamer (& Tag Tamers, D-1 Tamers, Brave Tamer) | Digimon Medley | Digimon World Data Squad | Digimon Adventure | Digimon Universe: Appli Monsters (& Cyber Arena) | Digimon Racing | D-Project | Digimon World Championship | Digimon Collectors | Digimon Heroes! | Digimon Links | Digimon Soul Chaser | Digimon Battle | Digimon Masters | Digimon Jintrix | Digimon Fortune
Lists of Digimon:
List of Digimon (

all Digimon

) |

Fresh

|

In-Training

|

Rookie

|

Champion

|

Ultimate

|

Mega

|

Ultra

|

Armor

|

Hybrid

|

No Level

|

Non-Japanese Origin

| Partner |

Groups

Lists of Appmon:
List of Appmon (

all Appmon

) |

Standard

|

Super

|

Ultimate

|

God

| Buddy
Community:

Fansubs

|

Fansites

|

Fan fiction

|

Relationships
Ad blocker interference detected!
Wikia is a free-to-use site that makes money from advertising. We have a modified experience for viewers using ad blockers

Wikia is not accessible if you've made further modifications. Remove the custom ad blocker rule(s) and the page will load as expected.