Agumon is a Digimon character in « Digimon : The Golden Digivice ».
Description
Agumon is a Rookie Digimon who looks like a tiny yellow dinosaur. He is kind, friendly and gentle. He is BlackAgumon's twin brother and Greymon's son. He wants to protect Liz to thank her for saving him.
Attacks
Cross Fire: Gathers power and then either bites foe and slashes them with claws.
Spirit Fire: Shoots a small blast of fire from its mouth.
Claw Attack: Attacks with claws.
Pepper Breath: Shoots an orange and red fireball of varying strength from its mouth.
Spitfire Blast: Accumulates "Pepper Breath" in its mouth and then spits it out all at once as a much more powerful blast.
Baby Volcano: Breathe out a huge fireball and cause a huge explosion.
Baby Claw: Strike using both hands.
Other Forms
In The Golden Digivice, Agumon raises several forms, in spite of his Rookie form is the one that he sets mostly.

Botamon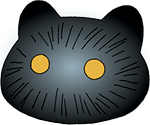 Botamon is Agumon's Fresh form.
Attacks
Bubble Blow: Produces bubble-like objects from its mouth to intimidate the opponent.

Koromon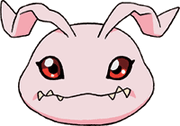 Koromon is Agumon's In-Training form. He takes this form when he hasn't got enough energy to take his Rookie form. He takes this form after using his Ultimate form.
Attacks
Bubble Blow: Produces bubbles from its mouth to intimidate the opponent.

GeoGreymon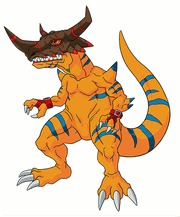 GeoGreymon is Agumon's Champion form. He took it for the first time to fight Tyrannomon when he attacked Liz.
Attacks
Mega Flame: Spews super-high temperature flames from its mouth, reducing everything to ashes.
Mega Burst: Fires off a version of "Mega Flame" enhanced to its limit within its mouth.
Horn Impulse: Charges with its gigantic horns and pulverizes the opponent.
Mega Shot: Fires a blast from the mouth.
Mega Roar: Attacks with the blast of a war cry.
Mega Volcano: Breathes out a huge fireball and causes a huge explosion.

RizeGreymon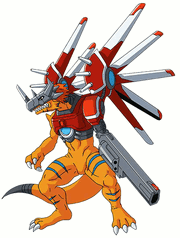 RizeGreymon is Agumon's Ultimate form. After fighting at this level, he resumes to Koromon.
Attacks
Trident Revolver: Rapid-fires at the limit of the Chrome Digizoid's endurance.
Rising Destroyer: Fires a beam barrage from its chest-cannon and the three beam cannons extending from its wings.
Solid Strike: Charges the opponent and knocks them out with the extraordinary impact strength of its gigantic revolver.
Crack Bullet: Fires a barrier-piercing bullet.

VictoryGreymon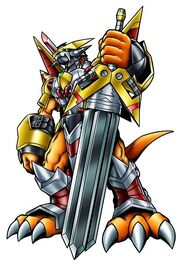 VictoryGreymon is Agumon's Mega form. He has enough power to destroy a mountain if he wants.
Attacks
Dramon Breaker: Performs a heroic sword technique with the Dramon Breaker in which it strikes the opponent, instead of slashing, pulverizing them.
Trident Gaia: Splits the Dramon Breaker and equips the pieces to its arm, takes all the energy within the atmosphere and concentrates it into the tips of its sword, then fires it.
Victory Charge: Performs a unique sword technique with the Dramon Breaker which reflects back an opponent's attack.
Victory Shield: Unites the shells equipped on its back into a shield, which it wields.
Ad blocker interference detected!
Wikia is a free-to-use site that makes money from advertising. We have a modified experience for viewers using ad blockers

Wikia is not accessible if you've made further modifications. Remove the custom ad blocker rule(s) and the page will load as expected.