Allen Ruse is a main character in Fan:Digimon Tamers: V2.
Allen is a very air-headed guy. However he is kind and loves his friends and family. He is the boyfriend of Alexis. He is very close to BlackAgumon.
Appearance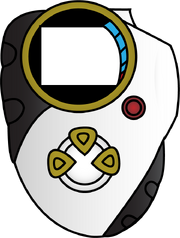 Digimon Tamers: V2
Allen is a main character in Fan: Digimon Tamers: V2. He first appears in a conversation with Alexis.
He met BlackAgumon around the same time as when Alexis met Turuiemon. He was playing a digimon video game with BlackAgumon as his character. BlackAgumon then game out of the game and the two loved each other right away. Allen then rushed to his parents and showed them BlackAgumon.
He started dating Alexis after saving her during a fight.
He later joins forces with Hypnos to locate the cult.
Ad blocker interference detected!
Wikia is a free-to-use site that makes money from advertising. We have a modified experience for viewers using ad blockers

Wikia is not accessible if you've made further modifications. Remove the custom ad blocker rule(s) and the page will load as expected.