Armadillomon is a fictional character & Digimon from the fanfictional series Digimon AA. He is the partner of Andy "An" Huoyu, member of the Neo-DigiDestined & alternate version of Cody Hida.
Personality
Attacks:
Diamond Shell (Rolling Stone): Armadillomon curls up into a ball & rams into the opponent.
Scratch Beat: Rapidly slashes enemies using his claws.
Description
Other Forms
Tsubumon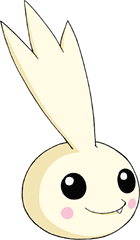 Tsubumon is Armadillomon's Fresh form.
Attacks:
Bubble Blow (Acid Bubbles): Fires bubbles from the mouth.
Upamon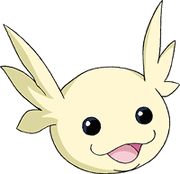 Upamon is the In-Training form of Armadillomon.
Attacks:
Digmon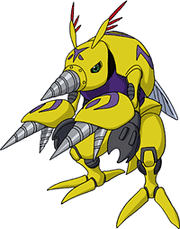 Digmon, the "Drill of Power/Knowledge" is the form Armadillomon takes when he Armor Digivolves with the Digi-Egg of Knowledge.
Attacks:
Gold Rush: Digmon fires his drills towards the opponent.
Rock Crackin' (Big Crack): Digmon rams his drills in the ground, causing a fissure.
Submarimon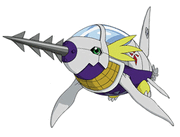 Submarimon, the "Reliable Guardian of the Seas", is the form Armadillomon takes when he Armor Digivolves with the Digi-Egg of Reliability.
Attacks:
Oxygen Torpedo (Oxygen Homing): Submarimon fires oxygen torpedoes from his front compartment.
Submarine Attack: Submarimon fires energy beams of water at his opponent.
Ankylomon
Ankylomon is Armadillomon's Champion form.
Attacks:
Tail Hammer: Ankylomon uses the spiked end of his tail as a hammer.
Megaton Press: Ankylomon leaps into the air and slams his body onto his opponent.
Shakkoumon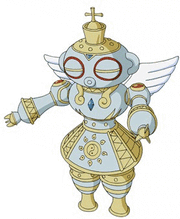 Shakkoumon is an Ultimate Digimon who is the DNA Digivolved form of Angemon & Ankylomon.
Attacks
Justice Beam/Harmonious Spirit (荒御魂 Aramitama?, lit. "Rough Spirit"): Radiates red laser beams from his eyes that can reach 100000° at their focal point.
Kachina Bombs/Clay Bomb (和御魂 Nigimitama?, lit. "Harmonious Spirit"): Fires clay disks from his waist.
Shamiromon
Shamiromon is a Mega Digimon who is the digivolved form of Shakkoumon.