Armadillomon is a Digimon character in « Digimon : The Golden Digivice ».
Description
Armadillomon is a Rookie Digimon who loooks like an armadillo. He is fearful and will flee the fight if he is not encouraged. He is a good friend of Patamon. He was found near the haunted house by Devi after she and Liz ran away from the house by means of Rose, Gatomon and Veemon. He led them to his house in the forest near to the town where he lived along with Tapimon. Episode 6: The Mystery Of The Golden Digivice
Attacks
Diamond Shell: Curls up its body and rushes the opponent.
Diamond Slamming: Strikes the opponent with the elongated claws on its forelegs.
Other Forms
In The Golden Digivice, Armadillomon raises several forms, in spite of his Rookie form is the one that he sets mostly.

Tsubumon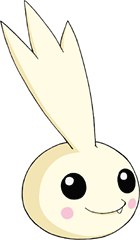 Tsubumon is Armadillomon's Fresh form.
Attacks
San no Awa: Drives off the opponent with acid bubbles.

Upamon
Upamon is Armadillomon's In-Traning form. He is energetic and friendly. He takes it after fighting at Ultimate level.
Attacks
Shock Shout: Releases an ultrasonic shout to make the opponent flinch.

Ankylomon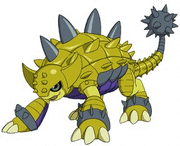 Ankylomon is Armadillomon's Champion form. He is stronger and smarter than Armadillomon.
Attacks
Megaton Press: Leaps high into the sky despite its appearance, then crushes the opponent under its large build.
Tail Hammer: Violently beats the opponent with the iron sphere on the tip of its tail, completely shattering the opponent's wire frame.

Shakkoumon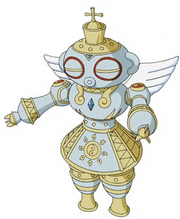 Shakkoumon is the DNA digivolve of Ankylomon and Angemon. He is wise but slow.
Attacks
Justice Beam: Radiates red laser beams from its eyes that can reach 100000° at their focal point.
Kachina Bombs: Fires clay disks from its waist.

Vikemon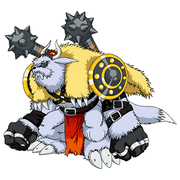 Vikemon is Shakkoumon's Mega level. He seems old but he stills powerful and agile.
Attacks
Arctic Blizzard: Momentarily brings the surrounding atmosphere to absolute zero, flash-freezing the opponent, who it then smashes with Mjöllnir. The attack is named after the fact that the opponent's smashed body becomes like a blizzard.
Mjollnir: Uses the morning star on its back to unleash powerful hits.
Viking Flare: Uses the morning star on its back to unleash powerful hits.
Bazooka Howl: Howls with all of its berserker rage.
Ad blocker interference detected!
Wikia is a free-to-use site that makes money from advertising. We have a modified experience for viewers using ad blockers

Wikia is not accessible if you've made further modifications. Remove the custom ad blocker rule(s) and the page will load as expected.