Arukenimon is a Digimon character in « Digimon : The Golden Digivice ».
Description
Arukenimon is an Ultimate Digimon. She is selfish and superficial, and she will only move the little finger in case of emergency. She is a good friend of LadyDevimon and Witchmon. Her mother is the Arukenimon which attacked the DigiDestined and was overcome by Kyubimon, Leomon and Dinohyumon.
Attacks
Spider Thread: Chops up the opponent with razor-sharp wires.
Predation Spider: Attacks the opponent with the countless carnivorous Dokugumon hidden in its abdomen.
Acid Mist: Sprays green acid from its mouth.
Other Form
Arukenimon can take severals forms, but she usually stands at her Ultimate form.

KoDokugumon
KoDokugumon is Arukenimon's Fresh form. She was at this level when Liz found her.
Dokugumon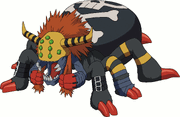 Dokugumon is Arukenimon's Champion form. She is less intelligent than Arukenimon.
Attacks
Poison Cobweb: Fires a poisonous blast from its mouth.
Poison Thread: Shoots a web from its spinnerets.

Parasimon
Parasimon is Arukenimon's Mega form. She can't talk but her knowledge exceeds the understanding.
Attacks
Electric Bind: Binds the opponent with its elongated tentacles and unleashes an intense electric shock.