Betamon is a Digimon character in « Digimon : The Golden Digivice ».
Betamon
(ベタモン)

Appears in:
The Golden Digivice
Partner(s):

Golden Fox

Gender
Male
Digivolution
Fresh
Pichimon
In-Training
Bukamon
Rookie
Betamon
Champion
Seadramon
Ultimate
MegaSeadramon
Mega
MetalSeadramon
Mega
GigaSeadramon
Description
Betamon is a Rookie Digimon with a brave personnality. He could become a great hero if he was not so awkward. He joins the Golden Fox after the DigiDestined saved him from a wild Arukenimon and her army of Dokugumon. He is frightened by KoDokugumon.
Attacks
Electric Shock: Fires a 1,000,000 volt shock at the enemy.
Beta Slugger: Attacks his opponents directly with his fin.
Water Tower: Creates pillar of water at the opponent.
Other Forms
In The Golden Digivice, Betamon raises several forms, in spite of his Rookie form is the one that he sets mostly.

Pichimon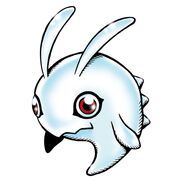 Pichimon is Betamon's Fresh form.
Attacks
Bubble Blow: Spits out soap-like bubbles from its mouth and blinds the opponent's eyes, then flees.

Bukamon

Bukamon is Betamon's In-Training form. He is more innocent than Betamon and sees the life as a game. He resumes to this level after fighing as MegaSeadramon.
Attacks
Bubble-Blow: Fires pink bubbles from its mouth.
Froth Bubbles: Spits froth that looks like bubbles.

Seadramon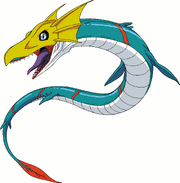 Seadramon is Betamon's Champion form. He is really more powerful and smarter than Betamon, he is also more aggresive than him.
Attacks
Ice Blast: Spews absolute zero breath from its mouth, instantly freezing water that it fires at the opponent.

MegaSeadramon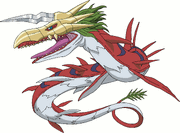 MegaSeadramon is Betamon's Ultimate form. After fighting as him, Betamon resumes to Bukamon.
Attacks
Lightning Javelin: Fires a powerful lightning strike from the blade on its calvaria.

MetalSeadramon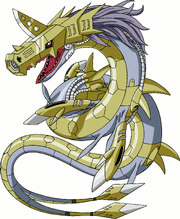 MetalSeadramon is Betamon's Mega form. He is really less docile than Betamon's other forms.
Attacks
River of Power: Fires an energy cannon from the tip of its nose.

GigaSeadramon
GigaSeadramon is Betamon's Rage Mode. In order to become GigaSeadramon, Betamon owes becomes MetalSeadramon and accumulate enough power and anger.
Attacks
Giga Sea Destroyer: Fires an energy torpedo from its mouth-cannon.
Sky Wave: Strafes with countless anti-aircraft energy shells fired from the launchers on its back.