Biyomon
(ピヨモン Piyomon)
Appears in:
Digimon AA
Partner(s):
Diane Luwuzai
Digivolution
Fresh
Nyokimon
In-Training
Yokomon
Rookie
Biyomon
Champion
Birdramon
Ultimate
Garudamon
Mega
Hououmon
Biyomon is a fictional character & Digimon from the fanfictional series Digimon AA.
Personality
Attacks
Spiral Twister (Magical Fire): Biyomon flaps her wings and creates a green flame, which is shot out as a spiraling inferno.
Description
Other Forms
Nyokimon's Digi-Egg

Nyokimon's Digi-Egg is held alongside Diane's Digivice & Tag, the Crest of Love, & the other Digi-Eggs, Digivices, Tags, & Crests.
Nyokimon

Nyokimon is Biyomon's Fresh form.
Attacks
Yokomon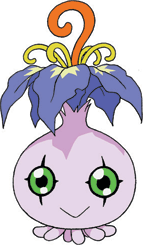 Yokomon is Biyomon's In-Training form.
Attacks
Bubble Blow (Acid Bubbles): Fires small bubbles at her enemies.
Birdramon
Birdramon is a phoenix-like bird who is Biyomon's Champion form.
Attacks:
Meteor Wing: Birdramon flies into the sky and fires big fire from her wings.
Garudamon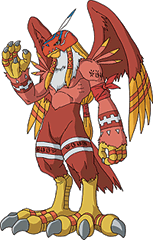 Garudamon is Biyomon's Ultimate form.
Attacks
Wing Blade (Shadow Wing): Garudamon uses her wings and fires a bird-shaped flame at her opponent.
Phoenix Claw: Garudamon grabs the opponent with her hands.
Hououmon
Hououmon is Biyomon's Mega form.
Attacks
Star-Light Explosion: Solemnly flaps its four wings, causing it to rain golden grains that are said to purify all of the wickedness of those who suffer this technique.
Crimson Flame (Crimson Flare)