Biyomon is one of the main Digimons character in "Digimon : The Golden Digivice".
Biyomon
(ピヨモン Piyomon)

Appears in:
The Golden Digivice
Partner(s):

Lily Daguet

Gender
Female
Known relatives
Hawkmon (Big brother)
Digivolution
Fresh
Nyokimon
In-Training
Yokomon
Rookie
Biyomon
Champion
Birdramon
Ultimate
Garudamon
Mega
Phoenixmon
Mega
Varodurumon
Description
Biyomon is a small pink bird with blue-tipped feathers on her head and a ring on one of her legs. At the tip of her wings are three pink claws. She has the behavior of a little girl but she can show her very mature when someone needs.
Attacks
Spiral Twister: Attacks with phantom flames.
Violin Attack: Attacks foe while chirping.
Pecking Attack: Pecks foe rapidly.
Tsuibami Attack: Drills foe with beak.
Other Forms
In The Golden Digivice, Biyomon raises several forms, in spite of her Rookie form is the one that she sets mostly.

Nyokimon
Nyokimon is Biyomon's Fresh form.
Attacks
Seed Cracker: Flings popping seeds, then quickly flees while the opponent is surprised.

Yokomon
Yokomon is Biyomon's In-Training form. She was at this level when Lily presents her to the other DigiDestined. She resumes to this form after using her Ultimate form.
Attacks
Bubble Blow: Fires pink bubbles from its mouth.
Flower Bubbles: A popping bubble that looks like a flower petal.

Birdramon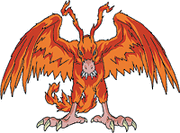 Birdramon is Biyomon's Champion form. She is more aggressive than Biyomon, but she's able to fly, unlike her Rookie form.
Attacks
Meteor Wing: Flaps its wings and throws small flaming meteors from them which explode upon impact. This attack is sometimes confused with Fire Flapping.
Fire Flapping: Flaps its wings, releasing a stream of flames.
Phoenix Rising: Rises in the air with a fast motion and a stream of fire and smoke coming from its tail to blind enemies.
Mach Grinder: While flying, charges down on enemies with its talons quickly.

Garudamon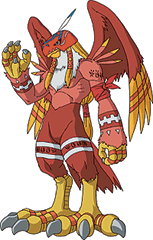 Garudamon is Biyomon's Ultimate form. In spite of appearences, Garudamon is still a female.
Attacks
Wing Blade: Unleashes a vacuum blade at super-speed, chopping up the opponent. Because of the speed of the Wing Blade's residue, its true colors cannot be confirmed, and it can only be seen as a silhouette shaped like a black bird.
Eagle Claw: Slashes foe with claws on feet.
Crimson Claw: Covers fist in flames and strikes opponent.
Fire Hurricane: Creates a huge tornado of fire.

Phoenixmon
Phoenixmon is Biyomon's Mega form. At this level, she is smarter.
Attacks
Star-Light Explosion: Solemnly flaps its four wings, causing it to rain golden grains that are said to purify all of the wickedness of those who suffer this technique.

Varodurumon
Varodurumon is Biyomon's Rage Mode. She becomes it when Phoenixmon accumulates enough power and anger.
Attacks
Purge Shine: Clads its body in a barrier of holy light emitted from its feathers that completely invalidates any attacks with an evil will.
Aurora Undulation: Amplifies the purifying light of "Purge Shine" to its maximum and emits it with enough power to pulverize even a star. Because it is emitted at the speed of light, it is nearly impossible to evade.
Ad blocker interference detected!
Wikia is a free-to-use site that makes money from advertising. We have a modified experience for viewers using ad blockers

Wikia is not accessible if you've made further modifications. Remove the custom ad blocker rule(s) and the page will load as expected.