BlakcAgumon is a Digimon character in « Digimon : The Golden Digivice ».
BlackAgumon
(アグモン(黒))

Appears in:
The Golden Digivice
Partner(s):

Golden Fox

Gender
Male
Known relatives
Agumon (Brother)
Greymon (Father)
Digivolution
Fresh
Zurumon
In-Training
Pagumon
Rookie
BlackAgumon
Champion
DarkTyrannomon
Ultimate
SkullGreymon
Mega
Machinedramon
Mega
Chaosdramon
Description
BlackAgumon is a Rookie Digimon who looks like a tiny black dinosaur. He likes making treacks to his friends, but he hasn't got bad intention, it's his way to show his friendship. He is Agumon's twin brother and Greymon's son.
Attacks
Pepper Breath: Spits flame breath from its mouth to attack the opponent.
Other Forms
In The Golden Digivice, BlackAgumon raises several forms, in spite of his Rookie form is the one that he sets mostly.

Zurumon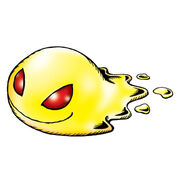 Zurumon is BlackAgumon's Fresh form.
Attacks
Poison Bubbles: Spits out venom-tinged bubbles.

Pagumon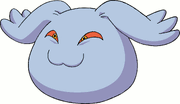 Pagumon is BlackAgumon's In-Training form. Pagumon is more michievous than BlackAgumon. He resumes to this form after fighting as SkullGreymon.
Attacks
Poison Bubbles: Shoots out poison bubbles.
Awa: Shoots out bubbles.
Tackle: A powerful charge used against the opponent.

DarkTyrannomon
DarkTyrannomon is BlackAgumon's Champion form. He is bestial and wild, but he stills a bit docile.
Attacks
Fire Blast: Transforms all of its surroundings into a sea of flames with a super-powerful flamethrower.

SkullGreymon
SkullGreymon is BlackAgumon's Ultimate form. It's really hard, almost impossible, to be obeyed by SkullGreymon.
Attacks
Dark Shot: Launches an organic missile from its spinal cord.

Machinedramon
Machinedramon is BlackAgumon's Mega form. In spite of appearences, he is very smart.
Attacks
Giga Cannon: Fires superdreadnought-class energy waves from its two cannons.
Dragon Fire: Drills its right arm into the opponent.
∞ Hand: Launches a blast of energy from its hand.

Chaosdramon
Chaosdramon is BlackAgumon's Rage Mode. He is very smart but he refuses to obey to anyone.
Attacks
Hyper ∞ Cannon: Fires a superdreadnought-class energy wave from its two artillery cannons.
Destroyed Harken: Shoots an organic missile from its right hand, that injects a virus on the victim, making them melt.