Candlemon is a Digimon character in « Digimon : The Golden Digivice ».
Description
Candlemon is a Rookie Digimon who looks like a candle. He is very cheerful and playful. He doesn't like seeing Gotsumon, Veemon and Bearmon trying to seduce Gatomon, his best friend, because he does not want any one of them to make her sad. He is also a good friend of Impmon. Candlemon lost his parents while he was a child. Then, he began to travel alone to find someone who could take care of him. He met Wizardmon who took care of him until they arrive at Angel Village, where they met LadyDevimon, who welcomed them at her home some times. Candlemon became close to Gatomon, then she made so that her new best friend can stay with her and be happy.
Attacks
Lava Loogie: Fires a small flame from his DigiCore fire energy that explode if hits.
Paraffin Paralyzer: Fires multiple globs of hot wax to paralyze opponent.
Other Forms
In The Golden Digivice, Candlemon raises several forms, in spite of his Rookie form is the one that he sets mostly.

Mokumon
Mokumon is Candlemon's Fresh form.
Attacks
Smoky Blow: Scatters the smoke issuing from its body all around, then seizes the opportunity to escape when the opponent loses sight of it.

DemiMeramon

DemiMeramon is Candlemon's In-Training form. He is more reserved than Candlemon. He resumes to this form after fighting as his Ultimate level.
Attacks
Fireball: Shoots fire from its hands, burning its opponents.
Flame Shot: Fires a small ball of flame from its mouth.

Meramon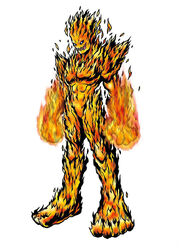 Meramon is Candlemon's Champion form. He is more arrogant than Candlemon.
Attacks
Fireball: Flares up both of its arms, then knocks away the opponent.
Roaring Fire: Emits fire from his fists.
Fire Fist: Engulfs its hand in fire and punches the opponent.
Magma Blast: Emits magma rocks which rain upon its opponents.
Fire Blast: Meramon inflames himself and charges at the opponent recklessly.

BlueMeramon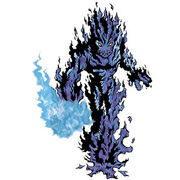 BlueMeramon is Candlemon's Ultimate form. He is wiser and smarter than Meramon.
Attacks
Ice Phantom: Inflicts burns on the opponent with super-chilled air.
Cold Flame: Unleashes an icy cold flame.
Vision Blinder: Blinds enemies with bright blue flames.

SkullMeramon
SkullMeramon is Candlemon's Mega form. He is generous and heroic.
Attacks
Metal Fireball: Launches a destructive ball of melted metal from its mouth. Alternatively, it fires blue fire mixed with liquid metal so that it clings to an opponent.
Chain of Pain: Uses one of the chains on its body as a whip.
Blacking Iron Whip: Uses many chains as whips.
Ad blocker interference detected!
Wikia is a free-to-use site that makes money from advertising. We have a modified experience for viewers using ad blockers

Wikia is not accessible if you've made further modifications. Remove the custom ad blocker rule(s) and the page will load as expected.