Diaboromon
(ディアボロモン Diablomon)
Partner(s):
Dallin
Digivolution
Fresh
Kuramon
In-Training
Tsumemon
Rookie
Keramon
Champion
Chrysalimon
Ultimate
Infermon
Mega
Diaboromon
Mega
Armageddemon
Diaboromon is a fictional character from the Digimon franchise & a primary antagonist in Digimon AA.
Description
Attacks
Web Wrecker (Catastrophe Cannon): Fires a powerful destructive energy bullet from the orb on his chest.
Cable Crusher: His arms extend to attack the enemy.
Paradise Lost
Other forms
Kuramon's Digi-Egg

Kuramon's Digi-Egg was created by Dallin & subsequently infected by a virus.
Kuramon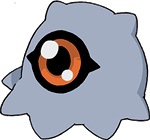 Kuramon hatched from a Digi-Egg that had formed on the Internet from a collection of viruses.
Attacks
Glare Eyes (Glare Eye): Produces a frothy substance from its gigantic eye.
Tsumemon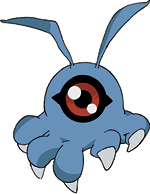 Tsumemon is the In-Training form of Diaboromon.
Attacks
Nail Scratch: Slashes with the claws on its feelers.
Keramon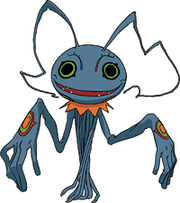 Keramon is the Rookie form of Diaboromon.
Attacks
Bug Blaster (Crazy Giggle): Spits out an exceptionally destructive bullet of light while laughing (?).
Network Flapping (Fool Out): Emits an unbearable discord.
Crazy Smoke: Blows out poisonous smoke.
Crazy Turn: Attacks by extending its arms & spinning around.
Chrysalimon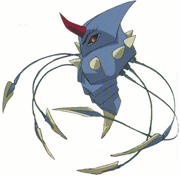 Chrysalimon is the Champion form of Diaboromon.
Attacks
Data Crusher: Destroys the opponent's configuration data with the tentacles extending from its back.
Unconnect Buster (Misconnecting)
Infermon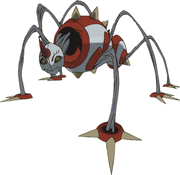 Infermon is the Ultimate form of Diaboromon.
Attacks
Spider Shooter (Cocoon Attack): His mouth opens to reveal a barrel-like cannon shooting small flares.
Network Grenade (Cocoon Attack): Charges the opponent while in its cocoon form.
Virus Skater
Armageddemon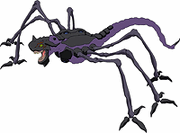 Armageddemon is the alternate form of Diaboromon.
Attacks
Destiny Destroyer (Ultimate Flare): Fires a solar-hot energy blast from his mouth.
Full Scale Attack (Black Rain): Launches a swarm of missile-like projectiles from his back.