Dinotigermon is a fictional character & Digimon from the fanfictional series Digimon Mighty Squadron.
Attacks
Highland Fang
Ground Fang
Description
Forming the right leg of Dinotigermon, it can shoot a large yellow laser out of its tail, similar to Triceramon; however, it can also attack using its teeth. This Digimon is by far the fastest, running as transportation.
Other Forms
Gryphonmon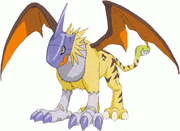 Gryphonmon
is the Thunder Digivolved form of Dinotigermon. It can project fireballs when used in combat on its own. It forms the left leg of both ThunderOmnimon & WhiteTigerVespamon Emperor Mode, & sits on the left side of the Assault Team.
Attacks
Solo Roar (Supersonic Voice): Produces an extremely high-frequency sound wave which completely disrupts the opponent's data structure.
Möbius Bite
Legendary Blade
Legendary Claw