FanBeemon is a Digimon character in "Digimon : The Golden Digivice".
Description
FanBeemon is a Rookie Digimon who looks like a wasp. He is very cheerful and playful. One time, while he was saying that he likes everything (except for the miserable people), Liz asked him for what he liked most and he answered "My mummy, of course !", then he explained that he loves his Tamer, Lullaby, who he considers as his mother.
Attacks
Gear Stinger: Rapid-fires tiny, serrated stingers.
Others Forms
In The Golden Digivice, FanBeemon raises several forms, in spite of his Rookie form is the one that he sets mostly.
Pupumon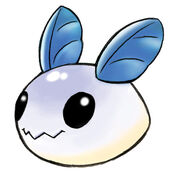 Pupumon is FanBeemon's Fresh form. He take it when he hasn't enough energy to take his Rookie form.
Attacks
Doku no Awa: Spits poisonous bubbles from its mouth at the opponent.

Puroromon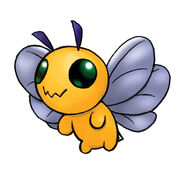 Puroromon is FanBeemon's In-Training form. FanBeemon resumed to this form when he is badly hurt.
Attacks
Chikkuritto: Injects a tiny quantity of venom with the tiny stinger on its rump.

Waspmon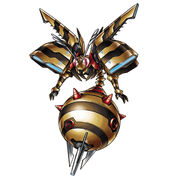 Waspmon is FanBeemon's Champion form.
Attacks
Turbo Stinger: Fires a rapid-fire salvo from its wide-aperture laser cannon.
Bear Buster: A single blow fired after charging up energy. This technique can bring down even larger Digimon, but it is difficult to hit agile enemies with it, so it is mainly used against enemies on the ground.

CannonBeemon
CannonBeemon is FanBeemon's Ultimate form.
Attacks
Nitro Stinger: Fires a shot from its high-caliber laser cannon which can even shoot clean through strongly armored opponents.
Sky Rocket ∞: Fires a simultaneous bombarding barrage from the container on top of it, and continues on like raging waves until its watch is ended.

TigerVespamon
TigerVespamon is FanBeemon's Mega form. TigerVespamon is really more serious than FanBeemon and obey to his master, at the risk of his life and could kill in cold blood to protect her. He acts like a ninja.
Attacks
Mach Stinger Victory: Stings the opponent with the "Royal Meister".
Ad blocker interference detected!
Wikia is a free-to-use site that makes money from advertising. We have a modified experience for viewers using ad blockers

Wikia is not accessible if you've made further modifications. Remove the custom ad blocker rule(s) and the page will load as expected.