Floramon is one of the main Digimons character in "Digimon : The Golden Digivice".
Description
Floramon is a Rookie Digimon who looks like a flower. She doesn't like getting dirty hands. In spite of her selfish and superficial air, she does not support that someone hurt her friends.
Attacks
Rain of Pollen: Generates allergy-inducing pollen from the flowers on both of its arms, which causes anyone who suffers from it, even larger Digimon, to be unable to keep hold of their presence of mind, and completely lose their fighting spirit.
Other Forms
In The Golden Digivice, Floramon raises several forms, in spite of her Rookie form is the one that she sets mostly.

Yuramon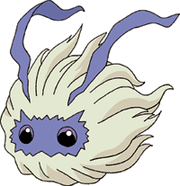 Yuramon is Floramon's Fresh form.
Attacks
Bubble Blow: Spits out adhesive bubbles to hinder the opponent's movement, then seizes the opportunity to escape.

Tanemon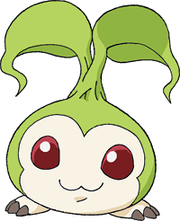 Tanemon is Floramon's In-Training form. She was at this level when Mary presents her to the other DigiDestined. She resumes to this form after using her Ultimate form.
Attacks
Bubble Blow: Fires harmless pink bubbles.
Nenchakusei no Awa: Spits out some bubbles.
Tackle: A powerful charge used against the opponent.

Kiwimon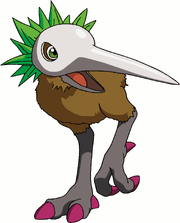 Kiwimon is Floramon's Champion form. She is more sociable than Floramon and she can't stop moving.
Attacks
Pummel Peck: Shoots ChibiKiwimon out at an opponent.

Blossomon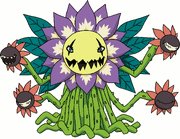 Blossomon is Floramon Ultimate form. She is nasty and won't obey to anyone.
Attacks
Spiral Flower: Hurls the tiny flowers growing from its vine tips like they were shuriken. These flower petals can cut through anything, no matter how hard it is.

Gryphonmon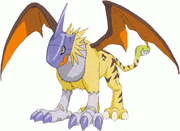 Gryphonmon is Floramon's Mega form. At this level, she has gain wise and smart.
Attacks
Solo Roar: Produces an extremely high-frequency sound wave which completely disrupts the opponent's data structure.