Gabumon is a main Digimon character in « Digimon : The Golden Digivice ».
Description
Gabumon is a Rookie Digimon with a shy personnality. He is very careful and preventive, he likes be safe but will face all the dangers to protect his friends. When he removes his fur, his personnality does a complete 180° shift.
Attacks
Blue Blaster: Releases a stream of blue ice-like flames from its mouth.
Other Forms
In The Golden Digivice, Gabumon raises several forms, in spite of his Rookie form is the one that he sets mostly.

Punimon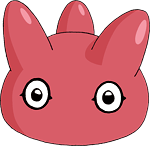 Punimon is Gabumon's Fresh form.
Attacks
Bubble Blow: Produces resilient, acidic bubbles to intimidate the opponent.

Tsunomon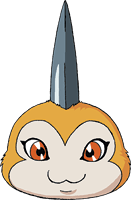 Tsunomon is Gabumon's In-Training form. He is more arrogant than Gabumon, but he is more fearful. He uses it when he leaves his Ultimate form.
Attacks
Bubble Blow: Produces bubbles from its mouth to intimidate the opponent.
Tackle: A powerful charge used against the opponent.

Garurumon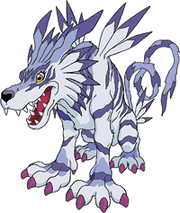 Garurumon is Gabumon's Champion form. He takes this form for the first time when he fought MadLeomon along with Leomon.
Attacks
Howling Blaster: Spews high-temperature blue flames from its mouth.

ShadowWereGarurumon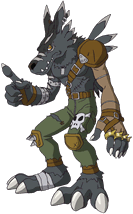 ShadowWereGarurumon is Gabumon's Ultimate form. He is really less fearful than Gabumon but he is more narcissist than him.
Attacks
Full Moon Kick: Kicks in a circle.
Shadow Claw: Cuts apart the opponent with the sharp talons on both of its hands.

BlackMetalGarurumon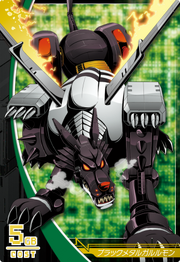 BlackMetalGarurumon is Gabumon's Mega form. He is less docile than ShadowWereGarurumon.
Attacks
Blizzard Wolf Claw: Launches every missile on its body at an opponent.
Freezing Breath: Freezes an opponent with a breath of freezing cold air.
Ad blocker interference detected!
Wikia is a free-to-use site that makes money from advertising. We have a modified experience for viewers using ad blockers

Wikia is not accessible if you've made further modifications. Remove the custom ad blocker rule(s) and the page will load as expected.