Gabumon
(ガブモン)
Appears in:
?
Partner(s):
Fan:Tristan Clarkson
Digivolution
In-Training
Tsunomon
Rookie
Gabumon
Champion
Garurumon
Ultimate
WereGarurumon
Mega
MetalGarurumon
Gabumon is a Digimon character in Digimon Data Squad: Legacy .
Gabumon is the partner of Tristan Clarkson. Gabumon and Max are friends and they help each other. Gabumon always obey Tristan but not as a soilder. They work, play and fight together. Since Tristan is a French gentlmen he is a gentlemen also and always say sir.
Description
Gabumon is at times obedient & friendly, willing to help those precious to him are harmed. He is utterly devoted to Tristan and ready to serve him but not as a servant, aiding him on his journey of self discovery and other stuff. Gabumon is always there for Tristan and if Tristan is cold or sick Gabumon will give him his pelt. Gabumon can be protective for his friends and Tristan.
Other Forms
Tsunomon

Tsunomon is Gabumon's In-Training form.
Garurumon
Garurumon is Gabumon's Champion form.
WereGarurumon
WereGarurumon is Gabumon's Ultimate form.

MetalGarurumon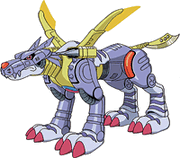 MetalGarurumon is Gabumon's Mega form.

ZeedGarurumon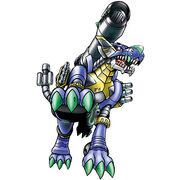 ZeedGarurumon is Gabumon's Burst Mode. Even though it dosen't say in his name.