Gatomon is a fictional character & Digimon from the fanfictional series Digimon AA. She is the partner of Gwen Bashin, member of the Neo-DigiDestined & the alternate version of Kari Kamiya.
Personality
Attacks
Lightning Paw (Neko Punch, lit. "Cat Punch"): A lightning-fast punch
Cat's Eye Hypnotism (Cat's Eye): An attack that allows Gatomon to confuse and/or paralyze the opponent.
Neko Kick (lit. "Cat Kick"): A lightning-fast kick
Description
Other Forms
YukimiBotamon's Digi-Egg
YukimiBotamon's Digi-Egg is held alongside Gwen's Digivice & Tag, the Crest of Light, & the other Digi-Eggs, Digivices, Tags, & Crests.

YukimiBotamon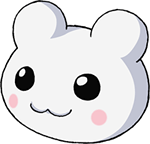 YukimiBotamon is Gatomon's Fresh form.
Attacks
Diamond Dust: Spits out a breath of freezing cold air.
Nyaromon
Nyaromon is Gatomon's In-Training form.
Attacks
Tail Whip (Fox Tail): Smacks enemies with her tail.
Bubble Blow: Nyaromon fires bubbles from her mouth.
Salamon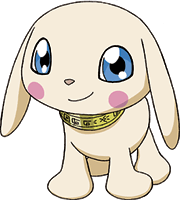 Salamon is Gatomon's Rookie form.
Attacks
Puppy Howling: Completely paralyzes the opponent with a super-high pitched howl.
Nefertimon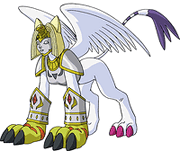 Nefertimon, the "Angel of Light", is the form that Gatomon takes when she Armor Digivolves using the Digi-Egg of Light.
Attacks
Rosetta Stone: A pink beam of light erupts from Nefertimon's necklace, and stone slabs shoot forth from it.
Queen's Paw (Nile Jewelry): Gems are fired from Nefertimon's paws. In the English dub, this is sometimes called Rosetta Stone.
Cat's Eye Beam (Curse of Queen): Beams of light fire from Nefertimon's headdress.
Golden Noose (Sanctuary Bind): Nefertimon partners with Pegasusmon to bind enemies with a rope of golden light.
Angewomon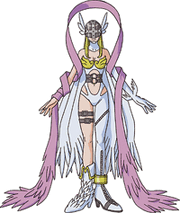 Angewomon is Gatomon's natural Ultimate form.
Attacks
Celestial Arrow (Holy Arrow): Creates an arrow that strikes her enemy.
Heaven's Charm: Creates a cross like shape that acts as a shield & an attack.
Heaven's Charge (Saint Air): Creates a ring of energy that paralyzes her enemies & restores her allies, who can then lend their power to her.
Silphymon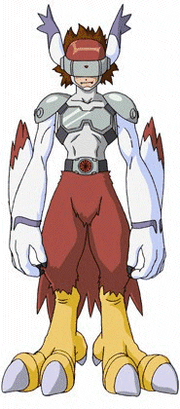 Silphymon is an Ultimate Digimon who is the DNA Digivolved form of Aquilamon & Gatomon.
Attacks
Static Force (Top Gun): Creates an energy ball that is fired from his hands at the opponent.
Astral Laser (Dual Sonic): A duplicate of Silphymon's body is created using energy & fired on the opponent.
Valkyrimon

Valkyrimon is a Mega Digimon who is the digivolved form of Silphymon.
Magnadramon
Magnadramon is Gatomon's Mega form.
Attacks
Fire Tornado (Holy Flame): Spews out fire that forms a tornado on impact.
Dragon Fire (Apocalypse): Calls down energy bolts from the heavens to strike opponents.
Hermit Fog: Sprays forth a debilitating mist.
Ophanimon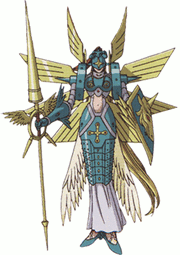 Ophanimon is Gatomon's alternate Mega form.
Attacks
Eden's Javelin: Radiates a beam of purifying light from its javelin.
Sefirot Crystal: Manifest ten crystals between its hands, in a Sefirot formation, & fires them.
TrinityAngemon
TrinityAngemon is a Mega Digimon is the DNA Digivolved form of Ophanimon, Seraphimon, & Cherubimon.