George is rather puzzling at times. Sometimes Solomon calls him dumb just like he does Taro, other times he calls George a weakling because of the fact George is actually a pacifist despite the fact he has one of the most powerful forms of the entire group. However, he is also the slowest of the group, as his attacks, while powerful, often leave him vulnerable to being attacked while in the process of smashing something into the ground. George, whenever digivolved into Monzaemon or Callismon, is the largest of the entire group, Callismon being so big he makes VenomMyotismon look tiny by comparison. He and Solomon often argue a bit about their own ideals when it comes to handling a situation, as George prefers the peaceful route while Solomon is much more aggressive with his solutions to problems. George is never to be underestimated, however, as when he finally does agree to get involved in the fight, his nigh unstoppable force as his digivolved forms will completely wreck any opponent to dare stand in his way.
Other Forms
Punimon

His Fresh form is Punimon, but he is never seen as it directly.
Tsunomon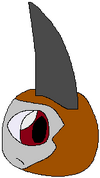 His In-Training form is Tsunomon, but again, is never seen in this form at all, because all of his Degenerations lead to Bearmon rather than to Tsunomon or Punimon
Bearmon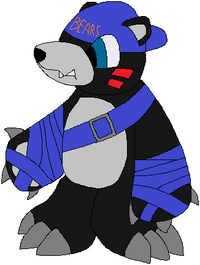 His primary form, as Bearmon is the form he prefers because he doesn't like to fight very much. The only real reason he uses his Digivolved forms intentionally is just to stay safe in the many dangerous areas of the Digital World, and to protect his friends.
Grizzlymon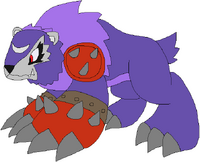 George's Champion Form, Grizzlymon. This Champion Form is rather oversized compared to other Grizzlymon, but there exists another Grizzlymon that's larger than him. He acquires his Champion Form by facing the lead Grizzlymon in battle, but the first encounter he loses, but wins the second time once he is more willing to put up a fight.
Monzaemon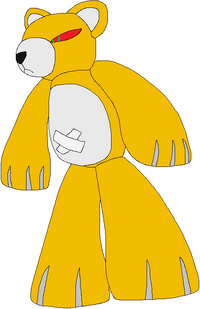 Monzaemon is George's Ultimate Form. Compared to Grizzlymon and Callismon, he prefers Monzaemon for how gentle it looks as it reflects his own personality better, but then again, Monzaemon is even more destructive than Grizzlymon because of the fact that in this form he is nearly 36 feet tall, which is taller than Solomon as MetalGreymon, who is 27 feet tall by comparison.
Callismon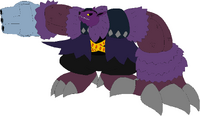 TBA
Ad blocker interference detected!
Wikia is a free-to-use site that makes money from advertising. We have a modified experience for viewers using ad blockers

Wikia is not accessible if you've made further modifications. Remove the custom ad blocker rule(s) and the page will load as expected.