"Gear"

Partners
Zack
To say Gear's digivolution line is messed up is an understatement. Then again, with a Digimon who's head is practically up in the clouds it makes sense. Crazy is just not enough to describe how Gear is, and is usually rather insane compared to his six comrades. Nobody knows what goes on inside this mischievous Digimon's mind, but one thing is for sure, is that he and his partner think a lot like each other, and come up with the most craziest schemes for no reason, usually at the beginning of an episode only on some occasions to have something go wrong only for whatever scheme they had planned actually happen by the end of an episode. This worked at least once or twice bringing down an enemy before, and one particular scheme was so big it spanned several episodes. It should be noted that while the other lines are more based on older Digimon media, Gear's line is based on both older games AND Digimon Masters, specifically with how HiAndromon is his Mega form.
Other Forms
Punimon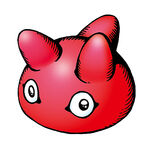 Rarely seen in this form unless degenerating from Mega, and even when he does degenerate, he almost always digivolves straight to Rookie right away, then back to his default Ultimate form, skipping both In-Training and Champion in the process.
Tsunomon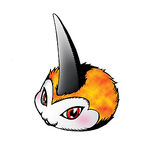 Tsunomon's only major appearance is in the beginning when Gear got forced down to In-Training by Eaglemon. When digivolving it should be noted he never speaks while doing so.
Gabumon
Gear first digivolves to this form when facing a rampaging Monochromon, and is seen mostly fighting Puffy in this form, rather than the scheming he normally does.
Drimogemon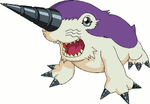 The first clue that Gear isn't related to the famous Gabumon Matt is partnered with, other than the fact he's previously seen as his Ultimate form Giromon before even being shown as a Gabumon. Drimogemon is where several of Gear's and Zack's crazier schemes come to mind.
HiAndromon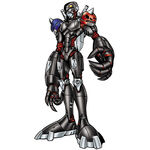 The final of the group to reach Mega, and for good reason. To even digivolve, Gear simply needs to speak. Compared to everyone else's goals they had to accomplish, even the treachery that Mysteros's goal was seemed like an easy task in comparison. It was simple, as Gear had no voice at all. When he finally does speak, it's when the others are in mortal danger and he's the only one remaining, in a situation not unlike the battle against Piedmon in Adventure. While all of Gear's other forms are silent, HiAndromon will speak, but in a rather robotic voice.