Gotsumon is a Digimon character in « Digimon : The Golden Digivice ».
Description
Gotsumon is a Rookie Digimon with a friendly personnality. He is in rivalry with Veemon and Bearmon to get Gatomon's love. He tries to have a chivalrous behavior to her for seduce her. When Gatomon needs something, he is always present to help her.
In spite of being a Rookie-level Digimon, Gotsumon is very powerful and can Warp digivolve to MetalEtemon as he wishes. Even when he takes his Mega form, Gatomon calls him "Gotsu-Gotsu".
Attacks
Rock Fist: Summons then hurls a number of heavy rocks from his head.
Crazy Crusher: Angers and shakes the ground with great power.
Other Forms
In The Golden Digivice, Gotsumon raises several forms, in spite of his Rookie form is the one that he sets mostly.

Zurumon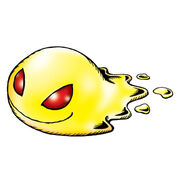 Zurumon is Gotsumon's Fresh form.
Attacks
Poison Bubbles: Spits out venom-tinged bubbles.

Pagumon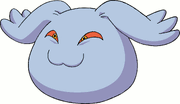 Pagumon is Gotsumon's In-Training form. Pagumon is more michievous than Gotsumon. He resumes to this form after fighting as Meteormon.
Attacks
Poison Bubbles: Shoots out poison bubbles.
Awa: Shoots out bubbles.
Tackle: A powerful charge used against the opponent.

Icemon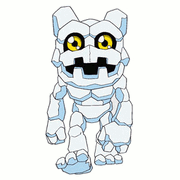 Icemon is Gotsumon's Champion form. He seems like Gotsumon, but he is stronger and smarter.
Attacks
Iceball Bomb: Creates a ball of ice and hurls it at the foe.
Ice Strike: Punches the foe with an icy fist.
Defensive Ray: Raises ally's defense.

Meteormon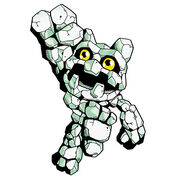 Meteormon is Gotsumon's Ultimate form. He is stronger than Icemon, but he is less smart.
Attacks
Galactic Flare: Creates beams from outer space and targets it at his opponents as a meteor shower.
Falling Star: Summons rain of glowing stars at enemy.
Big Bang Blow: Charges foes with high tremendous speed then causes explosion upon contact enemies.

MetalEtemon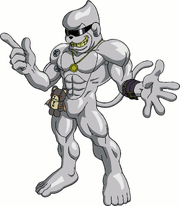 MetalEtemon is Gotsumon's Mega form. He is really stronger and smarter than Meteormon, but he is also really less docile. He is boastful and he tries to charm Gatomon by showing his muscle structure.
Attacks
Banana Slip: Trips the opponent with a banana peel.
Hekoki Attack: Emits flatulent gas.
Metal Punch: Unleashes a punch with all of its confidence.
Metal Punch: Slams its hip into an enemy.
Dark Spirits Deluxe: Calls down dark lightning made from negative energy.