Guilmon is a Digimon character in « Digimon : The Golden Digivice ».
Description
Guilmon is a Rookie Digimon who looks like a red dinosaur. He is very kind and brave, but the others find him too childish. Guilmon can show him very shy or very sociable, depending of his humor. He is a good friend of Ryudamon and Dorumon. He sometimes acts like a pet : running to catch something, following other people, staring at them and even growling and barking.
Attacks
Rock Breaker: Destroys rocks with its tough foreclaws.
Pyro Sphere: Spits out a powerful flame shot.
Rock 'n' Roll Breaker: Drills through its target with its claws.
Other Forms
In The Golden Digivice, Guilmon raises several forms, in spite of his Rookie form is the one that he sets mostly.

Jyarimon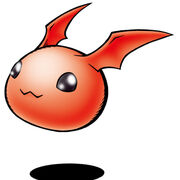 Jyarimon is Guimon's Fresh form.
Attacks
Nekki o Obita Awa: Attacks with bubbles heated by the constant high temperatures within its body.
Awa: Produces bubbles from its mouth to intimidate the opponent.

Gigimon
Gigimon is Guilmon's In-Training form. He is really less brave than Guilmon. He takes this form after using his Ultimate form.
Attacks
Hot Bite: Snaps at the opponent, burning the things it bites.

Growlmon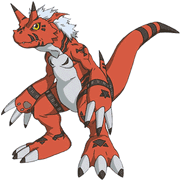 Growlmon is Guilmon's Champion form. He is less energetic than Guilmon.
Attacks
Pyro Blaster: Spews out a powerful blaze alongside a roar.
Dragon Slash: Develops plasma along the blades on both of its elbows, then strikes the opponent.

WarGrowlmon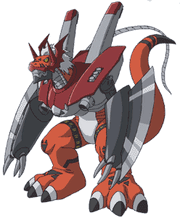 WarGrowlmon is Guilmon's Ultimate form. He is more gentle than him but he is uncontrollable when he is angry.
Attacks
Radiation Blade: Cuts the opponent to pieces with the Pendulum Blades.
Atomic Blaster: Fires an attack from both of the gunports on its chest that destroys the opponent on the atomic level.
Megalo Spark: Emits an electric shock from its chest.
Hammer Edge: Stabs the enemy with its Chrome Digizoid claws.

Gallantmon
Gallantmon is Guilmon's Mega form. He is more noble, braver, more generous, calmer and wiser than Guilmon. He will unsheathe his weapons only if his friends are hurt.
Attacks
Lightning Joust: Dispatches a strong blast of lightning from the Gram.
Shield of the Just: Fires a beam which purifies everything from the Aegis.
Ad blocker interference detected!
Wikia is a free-to-use site that makes money from advertising. We have a modified experience for viewers using ad blockers

Wikia is not accessible if you've made further modifications. Remove the custom ad blocker rule(s) and the page will load as expected.