Hagurumon is a Digimon character in « Digimon : The Golden Digivice ».
Description
Hagurumon is a Rookie Digimon who looks like a gear. He is very mature and independant, that's why he wants to digivolves by himself for protect hid friends without Liz's help.
Attacks
Cog Crusher: Buries a black gear with a built-in computer virus within the body of the opponent, driving them mad.
Other Forms
In The Golden Digivice, Hagurumon raises several forms, in spite of his Rookie form is the one that he sets mostly.

MetalKoromon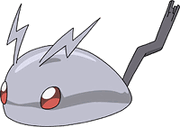 MetalKoromon is Hagurumon's Fresh form. He is unable to speak.
Attacks
Jamming Powder: Releases iron grains to cause temporary disorder in the opponent's AI, then flees while the opponent is confused.

Guardromon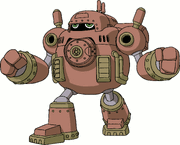 Guardromon is Hagurumon's Champion form. He is more fearful than Hagurumon.
Attacks
Guardian Barrage: Fires whistling missiles from the retractable missile launchers in its forearms.

Andromon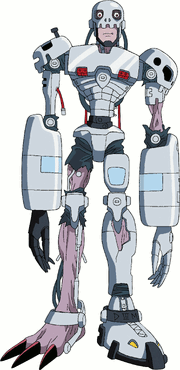 Andromon is Hagurumon's Ultimate form. He is smarter than Hagurumon.
Attacks
Lightning Blade: Fires a blade of energy from its arm module.
Gatling Attack: Fires two smart homing missiles from its chest, chasing enemies, which also contain machine guns.

HiAndromon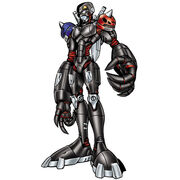 HiAndromon is Hagurumon's Mega form. He is colder than Hagurumon and doesn't speak to anyone.
Attacks
Atomic Ray: Takes the fission energy emanating from the blue neutron-control turbine on its right shoulder and the fusion energy emanating from the red atom-control turbine on its left shoulder, combines them at the top of its hands, and then fires off a beam which annihilates the opponent.

Craniamon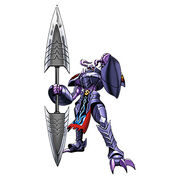 Craniamon is Hagurumon's Rage Mode. He is less docile than Hagurumon.
Attacks
Shock Ringer: Fires a sonic wave at supersonic speeds by rotating the Duo Solar Spear at high speeds, causing the opponent to "Dance" until their data is pulverized by the shock wave.
Power of Breath: Uses the Omni Shield to defend in every direction with an impregnable wall, allowing it to negate any attack for just three seconds.