Hawkmon is a Digimon character in Digimon Aventure 02: Legacy .
Hawkmon


Partner(s):

Mason Ito

Digivolution
Fresh
Pururumon
In-Training
Poromon
Rookie
Hawkmon
Champion
Aquilamon
Ultimate
Garudamon
Mega
Hououmon
Description
Hawkmon is a Rookie Digimon with a brave personnality and good friendship. He could become a great hero one day. After a while Hawkmon met Mason Ito and they became friends and partners. When Mason was going back to the real world he brought Hawkmon with him but as Poromon his In-Training form. Hawkmon and Mason are best friends and they do almost everthing to gether like fight, play, Hawkmon evens helps Mason with his homework sometimes. Hawkmon loves to eat, play and if have to he loves to fight.
Other Forms
In The Legacy , Hawkmon raises several forms, in spite of his Rookie form is the one that he sets mostly.
Pururumon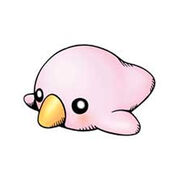 Pururumon is Hawkmon's Fresh form. He resumes to this level after being born of the Digi-Egg.

Poromon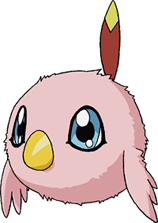 Poromon is Hawkmon's In-Training form. He is like Hawkmon and sees the life as a game.

Aquilamon
Aquilamon is Hawkmon's Champion form. He is really more powerful and smarter than Hawkmon, he is also a bit aggresive than him.

Garudamon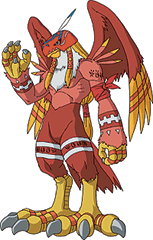 Garudamon is Hawkmon's Ultimate form.

Hououmon
Hououmon is Hawkmon's Mega form. He is really like docile Hawkmon's other forms.
Varodurumon
Varodurumon is Hawkmon's Burst Mode. In order to become Varoduruamon, Hawkmon owes becomes Hououmon and accumulate enough power and will. Even though it dosen't say burst in his name it is still his burst mode level.
Ad blocker interference detected!
Wikia is a free-to-use site that makes money from advertising. We have a modified experience for viewers using ad blockers

Wikia is not accessible if you've made further modifications. Remove the custom ad blocker rule(s) and the page will load as expected.