Salamon
Salamon

First appearance
Book 1: Sherimon
Partner(s):
Marie Cariso
Digivolution
Fresh
Puttimon
Champion
Gatomon
Appearance
Its a white dog digimon who has a knack of being jumpy.
Attacks
Other forms
"Salamon" refers only to this Digimon's Rookie form.
Puttimon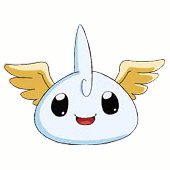 Puttimon is Salamon's Fresh form.

Nefertimon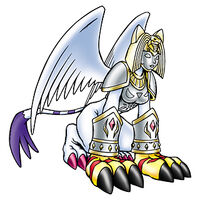 Nefertimon is an Armor level digimon. He fought Sherimon and lost.
Attacks
Rosetta Stone: It throws a stone through a magical portal.
Gatomon
Gatomon is Salamons champion form. It fought Sherimon and won.
Attacks
Lighting Paw: Punches the opponent with an electric paw.
Book 1: Sherimon
Marie Zulio is sucked into the Digital World, and partners with the Digimon Salamon. They fight and defeat a black Sherimon.
Featured Charecters
(Numbers indicate order of appearance. Bolded characters are fought by the protagonist(s), and italicized characters feature non-explicitly, e.g. voice, silhouette, image.)
Marie
Marie is cheerful girl partnered with Salamon. She went to the Digital World. Her Digimon evolver signal is red.