Kotemon is one of the main Digimons character in "Digimon : The Golden Digivice".
Description
Kotemon is a Rookie Digimon who looks like a little dinosaur with a samurai's equipment. She is a girl with a very shy personnality, she's very patient is always ready to listen to who needs an attentive ear. Unlike the others Digimon, Kotemon is unable to speak.
Attacks
Hothead: Headbutts the enemy with a flaming mask, or a flaming bamboo sword.
Thunder Kote: Charges his fist with electrical current and punches the enemy.
Other Forms
In The Golden Digivice, Kotemon raises several forms, in spite of her Rookie form is the one that she sets mostly.
MetalKoromon's Digi-Egg

MetalKoromon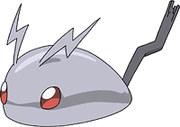 MetalKoromon is Kotemon's Fresh form. Like her Rookie form, she cannot speak and imposes electric shocks when she wants to require the attention.
Attacks
Jamming Powder: Releases iron grains to cause temporary disorder in the opponent's AI, then flees while the opponent is confused.

Kapurimon
Kapurimon is Kotemon's In-Training form. She is at this level when Ulrick presents her to the other DigiDestined. She is unable to speak too, but she can mew.
Attacks
Howling Blow: Generates a resonance between its two horns, creating a sound wave that will paralyze even a large Digimon.

Dinohyumon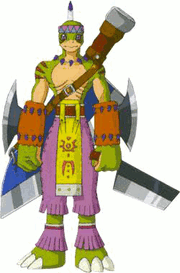 Dinohyumon is Kotemon's Champion form. It is when she take this form for the first time that DigiDestined learns that she is a girl because at this level, she can talk.
Attacks
Lizard Dance: Attacks with a series of quick and powerful slices from the smaller swords.
Akinakes: Attacks foes with a heavy swing from his largest sword Akinakes.

Knightmon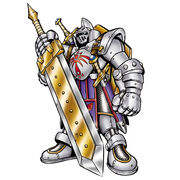 Knightmon is Kotemon's Ultimate form. In spite of the male appearance which she raises, Knightmon remains a girl
Attacks
Berserk Sword: Swings its greatsword like a berserker, cutting everything in two with a single stroke

Crusadermon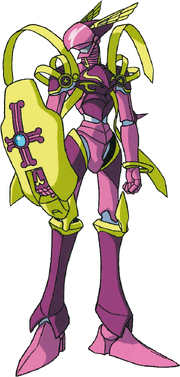 Crusadermon is Kotemon's Mega form. When she takes this form, Kotemon's sense of justice is multiplied tenfold by such a way as Crusadermon will never allow the slightest fraud to whoever it is.
Attacks
Spiral Masquerade: Chops up the opponent with the four body-sash blades which extend from its armor.
Fist of Fear: Instantly comes into point-blank range, then starts shooting the opponent in the chest with sonic booms from the Pile Bunker on its right arm.
Laser Lattice: Creates an energy net that projects out from the palm.
Scarlet Tempest: Uses the Pile Bunker to create a whirlwind about the foe
Ad blocker interference detected!
Wikia is a free-to-use site that makes money from advertising. We have a modified experience for viewers using ad blockers

Wikia is not accessible if you've made further modifications. Remove the custom ad blocker rule(s) and the page will load as expected.