Kunemon is a Digimon character in « Digimon : The Golden Digivice ».
Description
Kunemon is a Rookie Digimon who looks like a bug. He is gluttonous and immature. His personnality is all the opposite of Wormmon's, but strangly, they are good friends.
Attacks
Electro Thread: Spits out an electrically-charged thread of silk from its hard beak, which can knock out anyone who gets entangled in it with an intense electric shock.
Other Forms
In The Golden Digivice, Kunemon raises several forms, in spite of his Rookie form is the one that he sets mostly.

Flymon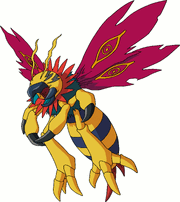 Flymon is Kunemon's Champion form. He is more michievous than Kunemon.
Attacks
Brown Stingers: Fires the stinger on its tail. It is said that Digimon who are stung are completely paralyzed, then have their body turn violet and die, and that firing the stinger isn't a problem for Flymon, because it will grow back indefinitely.
Poison Powder: Releases a poisonous dust from his wings that depower digimon affected by it.

Okuwamon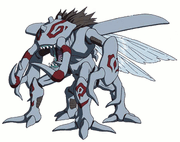 Okuwamon is Kunemon's Ultimate form. He is wilder than Kunemon.
Attacks
Double Scissor Claw: Attacks with an enhanced version of "Scissor Arms" that can clip through even a diamond with a hardness of 10.

GranKuwagamon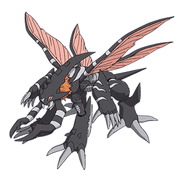 GranKuwagamon is Kunemon's Mega form. He is very wild but he still docile obedient.
Attacks
X-Scissor Claw: Cuts through all of the surrounding spaces.