Labramon is a Digimon character in « Digimon : The Golden Digivice ».
Description
Labramon is a Rookie Digimon who looks like a labrador retriever dog. She is a real tomboy but she stills a sensitive girl. When she met the DigiDestined, she was hating Dobermon and she fought him, but she fell in love of him after he saved her from BlackGarurumon. In spite of he loves her and she loves him, none of the two dare to admit his love for the other one.
Attacks
Cure Liquor: Restores and optimizes the data of weakened Digimon.
RetrieverG: Generates a hyper-oscillation with a powerful bark.
Other Forms
In The Golden Digivice, Labramon raises several forms, in spite of her Rookie form is the one that she sets mostly.

Paomon
Paomon is Labramon's In-Training form. She resumes to this form after using her Ultimate form.
Attacks
San no Awa: Spits resilient, acidic bubbles to intimidate the opponent.
Tsumo: Releases a high-frequency wave that is an effective charm against evil.

Seasarmon
Seasarmon is Labramon's Champion form. She was at this level when she met Liz and Dobermon.
Attacks
Sekkantou: Temporarily prevents the intrusion of evil Viruses, as a kind of Firewall.
Tee Dia: Fires countless holy arrows of sunlight.

Cerberumon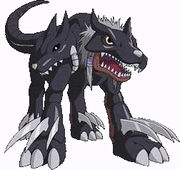 Cerberumon is Labramon's Ultimate form. She is wilder than Labramon.
Attacks
Portals of Darkness: Opens a "Hell Gate" engraved in the earth, then casts the opponent through it to the jet-black Dark Area.
Emerald Blaze: Spews a red-hot jet of flames.

Anubismon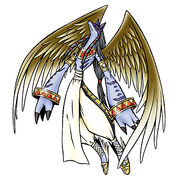 Anubismon is Labramon's Mega form. She is wiser, calmer and smarter than Labramon.
Pyramid Power: Draws a square pyramid with beams of light as depicted in Egypt's secret formulas, then imprisons the opponent within it.
Amemit: Summons a demonic beast from the underworld which devours the DigiCores of evil Digimon.
Ad blocker interference detected!
Wikia is a free-to-use site that makes money from advertising. We have a modified experience for viewers using ad blockers

Wikia is not accessible if you've made further modifications. Remove the custom ad blocker rule(s) and the page will load as expected.