Lopmon
(ロップモン)
Appears in:
Digimon AA
Partner(s):
Dallin
Digivolution
In-Training
Kokomon
Rookie
Lopmon
Champion
Wendigomon
Ultimate
Antylamon
Mega
Cherubimon (Good)
Cherubimon (Evil)
DNA Digivolution (+ Seraphimon & Ophanimon)
Mega
TrinityAngemon
Lopmon is a fictional character from the Digimon media franchise. Lopmon is one of the partner digimon of Dallin, the alternate version of Willis, & the twin brother of Terriermon.
Description
Attacks
Tiny Twister (Petit Twister): Generates a tiny tornado by spinning its ears like a propeller.
Blazing Ice/Blazing Fire: Spits out shots of supercooled air.
Other Forms
Kokomon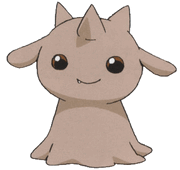 Kokomon is the In-Training form of Terriermon.
Attacks
Koko Crusher (Double Bobble): Spits out a lot of adhesive bubbles.
Wendigomon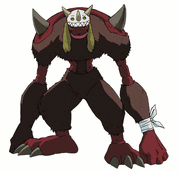 Wendigomon is the Champion form of Lopmon.
Attacks
Koko Crusher (Destroyed Voice): Reveals hidden canons on his chest & uses that to fire a stream of bullets at his enemies.
Cable Crusher (Club Arm): Extends his arms to punch or pin his enemies.
Antylamon
Antylamon is the Ultimate form of Lopmon.
Attacks
Meditation Cure: Recovers from any kind of damage in an instant.
Arm Bomber (Mantra Chant): Hardens its body tissue to the level of Chrome Digizoid by liberating all of the energy within its body, then unleashes a mighty blow.
Bunny Blades (Asipatravana): Spins on its axis like a tornado, cutting anything surrounding it with the Treasure Axes.
Treasure Axe (宝斧 Bǎo Fǔ?): Summons & attacks with the Treasure Axes.
Cherubimon
Cherubimon is the Mega form of Lopmon.
Attacks
Lightning Spear: Fires a spear of lightning.
Holy Hug/Storm of Judgment (Heaven's Judgment): Summons a giant thundercloud that looses innumerable thunderbolts on the opponent.
Terminal Judgment (Final Judgment): An enhanced version of Storm of Judgment which increases the range & density of the thunderbolts.
Thousand Spears (Thousand Spear): An enhanced version of Lightning Spear which fires multiple spears of lightning.
Lightning Blast: An enhanced version of Lightning Spear which greatly enlarges the spear fired.
TrinityAngemon
TrinityAngemon is a Mega Digimon is the DNA Digivolved form of Cherubimon (Good), Seraphimon, & Ophanimon.