Lopmon is a Digimon character in « Digimon : The Golden Digivice ».
Description
Lopmon is a Rookie Digimon who looks like a rabbit. She is a cold little girl who trusts anyone than her brother, Terriermon. She is very frank and reserved. She worships Renamon for her courage and her wise.
Attacks
Tiny Twister: Generates a tiny tornado by spinning its ears like a propeller.
Blazing Ice: Spits out shots of supercooled air.
Other Forms
In The Golden Digivice, Lopmon raises several forms, in spite of her Rookie form is the one that she sets mostly.

Conomon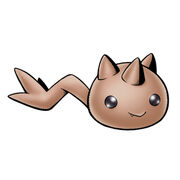 Conomon is Lopmon's Fresh form.
Attacks
San no Awa: Spits acid bubbles to intimidate the opponent.

Kokomon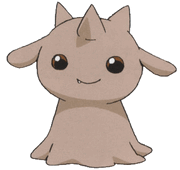 Kokomon is Lopmon's In-Training form. Before the DigiDestined found her, Terriermon was thinking that she was at this level because he resumed to Gummymon when he reached the Real World. She resumes to this form after using her Ultimate form.
Attacks
Koko Crusher: Spits out a lot of adhesive bubbles.

Turuiemon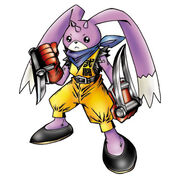 Turuiemon is Lopmon's Champion form. She is more serious than Lopmon.
Attacks
Gauntlet Claw: Uses the Tokaku Tessou to strike the opponent with a combo-attack unleashed with a great leap and rabbit-like agility.
Ninja Fist: Attacks with a quick and stealthy Ch'uan Fa which capitalizes on its great leaping power.

Antylamon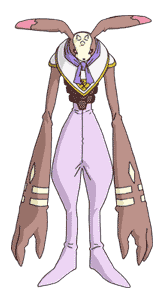 Antylamon is Lopmon's Ultimate form. She is more mature than Lopmon.
Attacks
Bunny Blades: Spins on its axis like a tornado, cutting anything surrounding it with the Treasure Axes.
Treasure Axe: Summons and attacks with the Treasure Axes.
Arm Bomber: Hardens its body tissue to the level of Chrome Digizoid by liberating all of the energy within its body, then unleashes a mighty blow.
Meditation Cure: Recovers from any kind of damage in an instant.

Cherubimon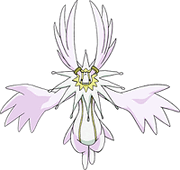 Cherubimon is Lopmon's Mega form. She is wiser and more generous than Lopmon.
Attacks
Lightning Spear: Fires a spear of lightning.
Holy Hug: Summons a gigantic thundercloud that looses innumerable thunderbolts on the opponent.