"Charming"

Partners
Mari
Charming is a little too aware of his charm, much to Mysteros's annoyance. Mysteros thinks he's crazy thinking he has such a charm, but Charming still thinks of his looks. He envies PrinceMamemon as an idol, but doesn't realize he can also digivolve into that form. While he is the shortest of the group of six, he is one of the most powerful of the group despite his small stature. When he digivolves to Mega for the first time, he must learn how to be able to keep his slight ego in check for 24 hours. How he accomplishes this only ends up with disastrous results he quickly tries to fix.
Other Forms
Yuramon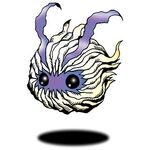 Yuramon is Charming's Fresh Stage, and unlike the others, doesn't mind his earlier forms at all. However, he only tends to be in this form when degenerating from Mega.
Tanemon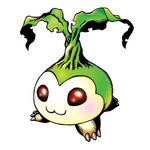 His In-Training form, which he is forced to degenerate into by Eaglemon when he first attacks. He reacts to it less negatively than his friends though.
Floramon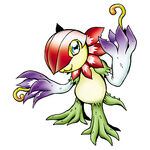 The only form that Charming hates the most, because he thinks it makes him look girly as it reminds him of a certain Palmon he knows. He digivolves into this form when the group faces a rampaging Monochromon.
Ninjamon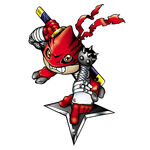 Being faster in this form than his later forms has benefits, but nether the less uses his Mamemon form as his default either way. He is the second to last of the group to digivolve to Champion, right after Mysteros.
PrinceMamemon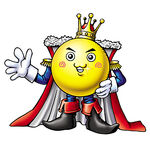 Charming first digivolves into this form when he can go without spreading his ego around when he talks, which at first, seems like an easy task, but really isn't. With the help of Gear, who decides to switch places with him for the day with disastrous results in the end, he ends up digivolving to PrinceMamemon to clean up the mess they caused while they pretended to be each other.