A juggernaut of power and strength, no Digimon in the new Digital World is anywhere near as deadly as Megaton is. Being able to both fly and fire variable types of ammunition, Megaton is a Digimon to look out for, especially when it had the honor of destroying the semi-final remnants of Dragoramon as only an Ultimate thanks to it's customized ability to fire different types of ammo, one in particular designed to be the bane of Dragoramon's existance, due to the fact it targets both it's four wings and it's chest at the same time, a combination that causes severe pain to Dragoramon in addition to causing it's wings to shatter like glass and ruin it's levitating abilities. However, the reason why Megaton was given such ammo was unknown, as even The Grand One thought that it Dragoramon was destroyed, until it appeared that a relative of Dragoramon had a hand in bringing Dragoramon to the alternate universe.....
Other Forms
Like the rest of the main cast Digimon, Megaton's Digivolution Line is odd because MOST of the lines originate from Digimon World, which is the reason why all of their preferred forms are their Ultimate forms, which were even their original forms before being forcefully degenerated.
Poyomon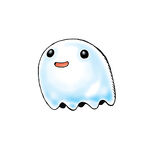 Megaton is rarely seen as a Poyomon, mostly due to being able to maintain digivolution very well, as Megaton originated from the B/C Universe rather than the Aftermath Universe.
Tokomon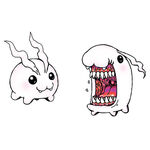 Same reason as above.
Biyomon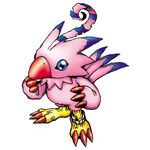 Same reason as above.
Airdramon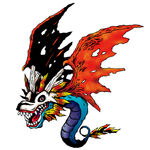 Megaton is frequently seen as Airdramon whenever weakened to a certain point or low on ammunition, as degenerating to Airdramon then digivolving back to Megadramon restores it's ammunition, but while as Airdramon, heals a whole lot faster. His scales in this form allow him to blend in with surroundings like a Chameleon, meaning he often makes his getaways in this form some of the times.
Machinedramon
Though much more powerful than Megadramon, Megaton rarely uses his Machinedramon form as it is unable to fly and is really slow. However, when the opponent proves to be really tough, he will make no haste to digivolve further but only after Megaton runs out of other options in his default Megadramon form.