Killer, like Puffy, is a rather ironic name because his default form is cute and cuddly. Well, except for his eyes that is. Then again, given his forms of Grizzlymon and BanchoLeomon, he isn't no cute and cuddly Digimon as those forms. He is a very tough fighter, and easily beats opponents when they are weak enough, but certain opponents even he can't defeat. While he is kind and friendly, he wishes to be scarier, but he doesn't know how to be like that.
Other Forms
Poyomon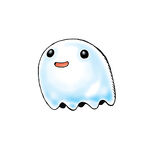 The only Digimon partner form shared with another main cast Digimon, a trait shared by Tokomon. Killer certainly doesn't like these forms at all, but does his best to work with them.
Tokomon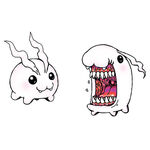 Once again, shares this form with Megaton, but doesn't hate it as much as he does his Poyomon form, as he can make use of the sharp teeth this form has very well.
Bearmon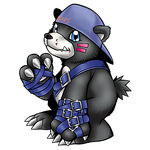 Much more tougher in this form than his previous forms, he is known to be able to beat Champion Level Digimon in this form more, and can even barely take on Ultimates (Though needs the help of his friends), and he is known to be on even footing as Puffy is in Rookie form, which only few are known to be able to match in strength.
Grizzlymon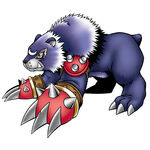 Killer's Champion stage, and much more worthy of his name than his default Monzaemon form, as he is just about as fierce as Puffy is as Greymon than anyone else. He is seen as Grizzlymon more frequently than his previous forms once he manages to digivolve.
BanchoLeomon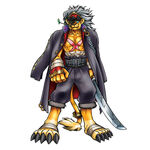 Killer's final form, and known for his scary behavior in this form. In-order to digivolve into this form for the first time, Monzaemon had to figure out how to be scary. Asking Mysteros for advice, he suggests turning Killer into a giant and have him terrorize the base of a group of Cyberdramon that was giving them trouble lately, but at first this doesn't go as planned until Jim discovers a potion that will allow Killer to turn into a giant. After using it, Killer acts like as monstrous as a Kaiju and scares of the Cyberdramon, and then digivolves into BanchoLeomon, just in time to face a GranKuwagamon that arrives soon afterwards. BanchoLeomon is when Killer acts more ferocious in battle than before.