Pagumon is a main Digimon character in Digimon Omega
Description
Pagumon is the partner Digimon of Ken Blaze. In the beginning Ken rejected Pagumon because he was to weak, but pagumon proves the contrary when he saves Ken from a Digimon.
Attacks
Poison Bubbles: Shoots out poison bubbles.
Awa: Shoots out bubbles.
Tackle: A powerful charge used against the opponent.
Other Forms
In Digimon Omega, Pagumon has many forms, but his In-Training form is the one he most stays.
Goblimon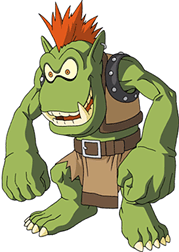 Goblimon is Pagumon Rookie form.
Attacks
Goburi Bomb: Creates a small ball of fire and then he throws it with his hand. The bomb explodes when impacting the enemy.
Goblin Strike: Throws fire.
Ogremon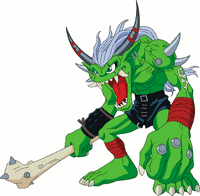 Ogremon is Pagumon Champion form. He digivolves to this form with the help of his friend SkullGreymon.
SkullSatamon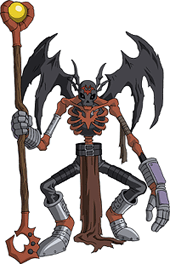 SkullSatamon is the Ultimate form of Pagumon through the DNA Digivolution with Devimon.
Titamon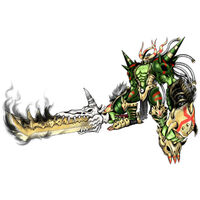 Titamon is the Mega form of Pagumon. Pagumon digivolves to this form when fighting as Ogremon see his friend SkullGreymon die. SkullGreymon passes his energy to him, and, with the junction of his anger and skullgreymon energy he digivolves.
Ad blocker interference detected!
Wikia is a free-to-use site that makes money from advertising. We have a modified experience for viewers using ad blockers

Wikia is not accessible if you've made further modifications. Remove the custom ad blocker rule(s) and the page will load as expected.